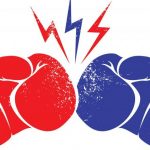 I thought it would be really great to know more about Oracle Commerce.
So I decided to learn it better, and fix my thoughts and conclusions in the form of comparison with what I know about SAP Hybris Commerce. Yes, it is still a Hybris blog, but…   
I've been participating in negotiations on what platform is better suited for customer's needs. Understanding both Oracle Commerce and SAP Hybris really counts. I participated in many meetings in my past where nobody in the room was able to compare the products properly. Oracle people big up their products without clear understanding of pros and cons of SAP Hybris, and SAP managers behave in the same way. The partners are generally good at any one thing.
I hope the information below will help you to picture your own understanding. I was trying to be as objective as I can. Despite the fact the blog is hybris-centered, all strengths of Oracle Commerce are clearly highlighted and all weaknesses of Hybris are present too.
In this document, I compare four e-commerce products from SAP and Oracle:
SAP Hybris Commerce On Premise
SAP Hybris Commerce Cloud
Oracle Commerce (ex-ATG) On Premise
Oracle Commerce Cloud
Read More »