Takeaways from SAP Customer Experience Live 2018
---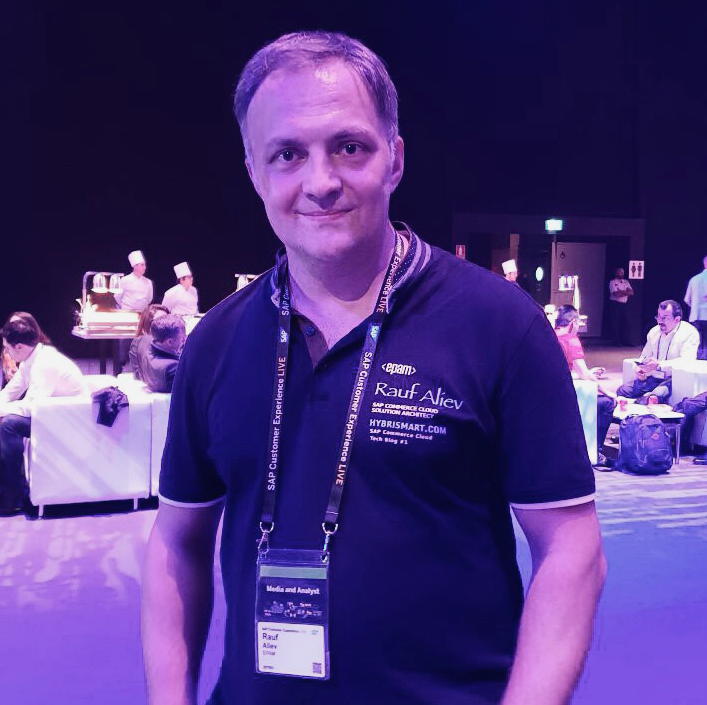 Last week concluded SAP Customer Experience Live, a gathering of bright minds and change-makers working in the field of customer-facing solutions powered by SAP. For those of you who didn't make it to the annual event in Barcelona, I've pulled together a few takeaways. First of all, I need to say thank you to all who made my visit possible. I very privileged to be part of this amazing event and a great community. I collected a lot of information to share. This review is supposed to be the first in the series. Stay tuned!
Part 1. 
Event details
Customer-centric business
C/4 HANA as a new suite
K-Worlds: Microservices, Kyma and SAP Cloud Platform Extensions Framework
Spartacus
SAP Upscale Commerce
Event details
This year, the event is hosted by Barcelona.
Alex Atzberger
, the president of SAP Customer Experience, noted in his keynote, that the 2018 event is two times larger than SAP had a year ago.
over 4000 attendees,
over 1500 customers,
over 1000 partners
150 speakers
571 sessions
The conference was held in Fira Barcelona Gran Via, one of the largest and most modern venues in Europe. SAP organized a 24-hour hackathon started just before the conference. Participants pitching ideas to leadership team. The hackathon ended with the presentations from the participants, not only the idea but also a working prototype. Next year's SAPCXLive will be in Berlin, Nov 5.
Rebranding
The first and major announcement is, of course, changing the name of the product line. SAP has rebranded its Hybris division as SAP Customer Experience. That wasn't breaking news to any of the guests. Alex Atzberger explained the change: what 10000 clients have in common is simply this, customer experience. This unifying factor led to the new name, Customer Experience, or CX in short.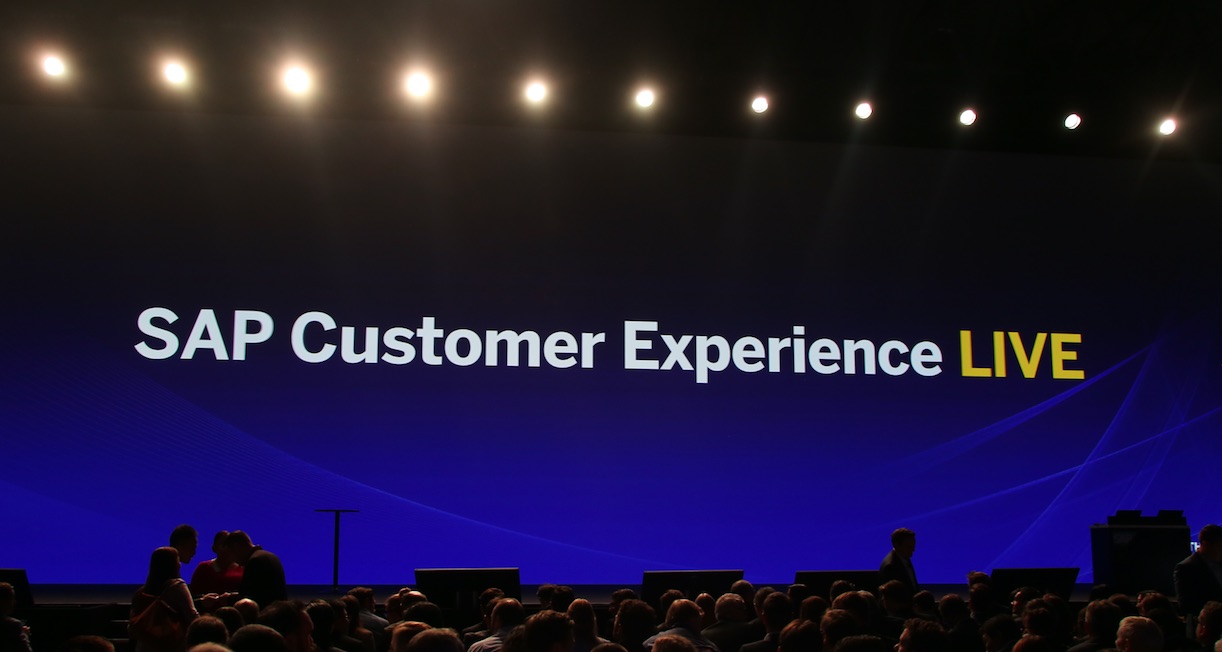 The important consequence of this "brand revolution" is a growing number of consultants with a mixed and comprehensive set of skills. In responding to demand, many SAP Hybris Commerce developers, consultants, business analysts and solution architects took an active interest in other products from this umbrella brand, myself included. In previous years, Hybris consultants were finding themselves in their own circle of interests limited to the Commerce product family. From a technical standpoint, what was SAP Hybris was built with a completely different stack of tools than the majority of other SAP products. The shift from one stack to another is difficult and painful, especially if they are based on different architectures and concepts. However, despite all this, we are observing an increasing number of people well versed in more than one products of the family. Of course, it creates new opportunities both for the customers and partners.
Customer-centric business
The summit started with an opening keynote address from the president of SAP Customer Experience
Alex Atzberger
. "
There was a very serious battle between two sides. On the one side, there are "digital natives", the companies with data in their blood, born on the Internet, and on the other side there are incumbents, the companies that have decades of investments and assets, and supply chains.
" He noted that in this battle, there is no winners and losers, and the new dividing line has become customer experience: those that truly understand the CX and those that don't. SAP's goal is to reinvent CRM by shifting a focus from sales and accounts to customers and their experience. Next day, this concept was greatly illustrated by
Moritz Zimmermann
, chief technology officer of SAP Customer Experience. He provided the personal example: "
Two weeks ago I wanted to go hiking with my little kids. A week before, I went online and bought a stroller. Two-day delivery was a promise, as stated. However, it didn't come Wednesday, Thursday, or Friday. On that weekend, we went on hike anyway, and, of course, I had to carry my eldest child for two hours and my back hurt for three days.
" Which just goes to prove that everything is connected: when one part of the system breaks, and the whole experience breaks. The companies need to invest in both the digital supply chain and the physical infrastructure to keep their promises under control and keep their customers happy. This explains why SAP discontinued their CRM solution and created from scratch C/4HANA-based products. The unification of UI and data model is a cornerstone of success.
C/4HANA
In the keynote,
Alex Atzberger
announced a new suite of applications, C/4HANA. This change was initially presented on SAP Sapphire Now in June 2018 (along with retiring Hybris as a brand), but now the concept has been better developed and packaged. "
What is C/4HANA? It's an umbrella term for SAP's combined customer experience solutions: five clouds and seven attributes make up the suite,
" Alex explained.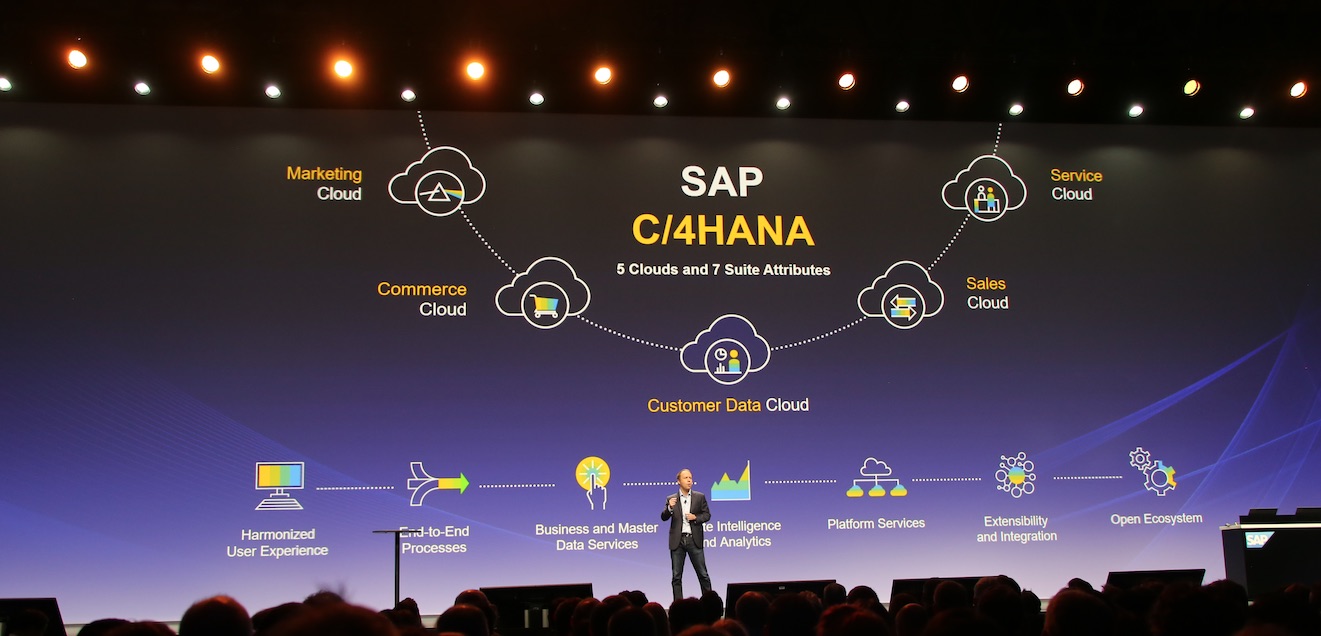 In a nutshell, SAP C/4HANA is what was known as SAP Hybris plus some recent acquisitions:
Marketing Cloud ("Customer data, smart marketing services and campaigns": a single view of customer data for marketing purposes, personalised experiences at scale and intelligent marketing)

Based on what was SAP Hybris Marketing Cloud

Sales Cloud ("Sales": helping organisations connect and guide customers throughout their buying journey),

Based on what was SAP Hybris Cloud for Sales
Based on what was SAP Subscription Billing
Based on what was CallidusCloud (acquisition; announced on Jan 2018)

Commerce Cloud ("eCommerce platform": a comprehensive commerce platform that includes product content management (PCM), experience management (CMS), personalisation and order management (OMS))

Based on what was SAP Hybris Commerce
Now running on Microsoft Azure Hyperscale Platform

Service Cloud ("call-center": allows businesses to offer multiple service channels, access complete and contextual customer information and gain real-time insight into a call center, self-service and field service performance)

Based on what was SAP Hybris Cloud for Service
Based on what was SAP Customer Engagement Center
Coresystems (acquisition; announced on June 5, 2018)
SAP Self Service Accelerator for Utilities by SmartEnergyWater

Customer Data Cloud ("Identity, consents and privacy": consists of identity and authentication, consent/data privacy, and a cross-cloud single customer profile)

Based on Gigya (acquisition; announced on Sep 2018)
"
What makes it a suite is an ability to harmonize user experience (that will be conversational, contextual and intelligent), unify data model, and gives you a platform extensibility,"
added Alex.
Microservices
Microservices is a way of breaking large software projects into smaller, independent, and loosely coupled modules. Most companies understand and appreciate the value of speed, execution, flexibility, scalability and reliability, as well as a reduction of complexity. By means of this architectural style, you can distribute the functions of your software across the cluster and make these components indefinitely scalable. Understanding the importance of microservices comes with time and traffic. Building with this type of architecture can also save time and money in development. However, developing distributed systems can be complex, multiple databases and transaction management can be painful. This is where SAP solutions come to play: many challenges have already addressed, and you won't need to reinvent the bicycle. SAP provides a framework for microservices, as well as the APIs and microservices for common commerce talks. The common services and patterns used for microservices are implemented in or integrated into SAP Cloud Platform.
K-World
Kubernetes is no longer merely fashionable terms of the moment. There are thousands of large corporations which have also been active in this field. SAP, Google, Microsoft and many others have demonstrated that the solutions are mature and production ready. In the age of globalization and growing customer's expectations, ensuring availability and peak IT environment performance are extremely important. And the solutions announced by SAP seems to be a real breakthrough. There are many aspects of what I called that as "a breakthrough". While many hide the implementation details, SAP recognized that companies need open, standards-based solutions, and invited the developer community to contribute. Read more about this in the section about Kyma and SAP CP EF.
SAP Cloud Platform Extension Factory and Kyma
What is Kyma? The details of the solutions were presented by Thomas Hertz and demonstrated by Agnieszka Janik. Kyma allows you to connect applications and third-party services in a cloud-native environment. Architecturally, Kyma is a well-integrated ready-to-use mix of SAP and existing open source solutions built on top of Kubernetes, such as Istio, Dex, Graphana, Prometheus, NATS, Jaeger and others.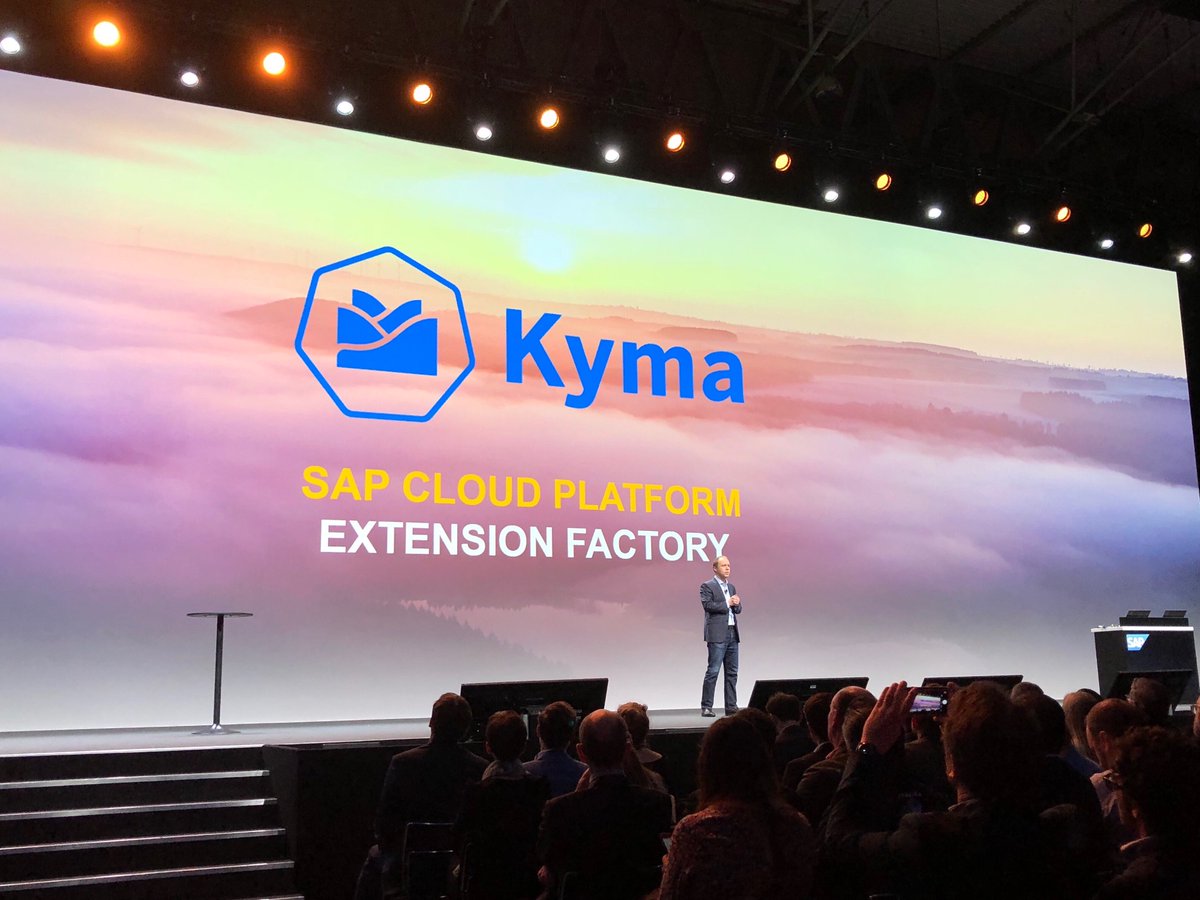 These cloud solutions are built on ideas that had been proven out at SAP, Google and Microsoft over the previous years both for internal needs and for the external customers. Kyma leverages the standard Kubernetes Service Catalog and expands it further by using the Open Service Broker (OSB) standard. The other major advancement by Kyma is the implementation of end-to-end flows, triggered by business events in existing enterprise solutions, resulting in extension modules being executed in Kyma. SAP also introduced
Luigi
, an open source tool for micro frontends, part of Kyma. It enables the creation of an administrative user interface which is driven by local and distributed views. Luigi is
available on Github
. On top of Kyma, SAP is delivering a commercial offering based on Kyma,  
SAP Cloud Platform Extension Factory.
 With it, developers will be able to easily integrate SAP C/4HANA applications in a quick and easy manner, reducing rollout time from months to days. The biggest benefit of this approach is no longer having to add custom code to those enterprise applications, as custom code typically introduces performance and upgrade risks. With the Function-as-a-Service capability you can create functions that support you in creating event-based extensions to enable light-weight integrations. The Extension Factory will be an integral part of SAP Cloud Platform and will not be commercialized as a separate product. The general availability of SAP Cloud Platform Extension Factory is currently planned in Q1/2019.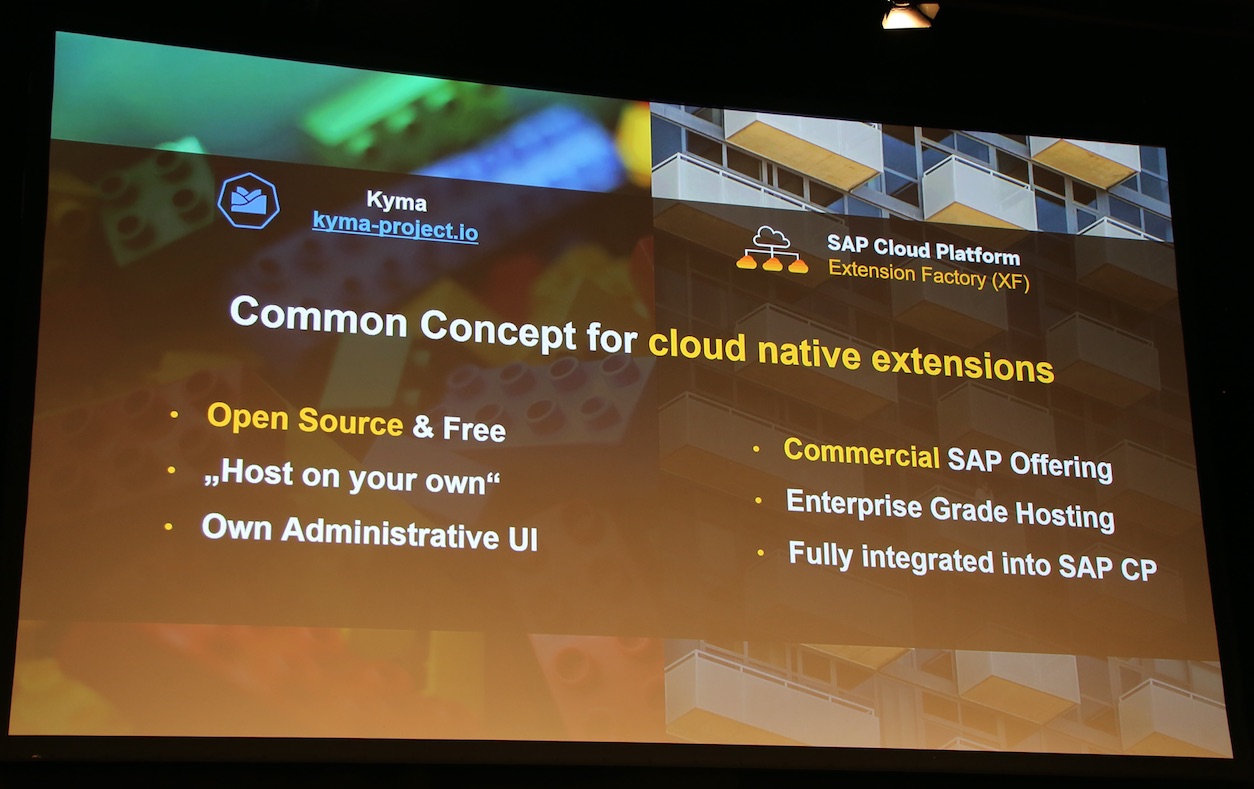 I'm planning to publish a detailed review of Kyma and SAP Cloud Platform Extensions Framework. Stay with hybrismart and watch for updates.
Open Data Initiative (ODI)
Adobe, SAP and Microsoft announced the
Open Data Initiative
. The idea of that is to have business applications from these vendors using a common data model within Microsoft's Azure cloud. Basically, the solutions will use the same data layer for Adobe Experience Cloud, Microsoft Dynamics 365, SAP C/4HANA and S/4HANA. The information can be processed by the same mechanisms built on top of Azure AI.

Spartacus
SAP announced Spartacus, a lean Angular-based single-page web application specially designed to work as the frontend storefront for the SAP Commerce Cloud e-commerce framework and SAP SaaS Commerce Cloud. The alpha version of the code is already 
available
on github.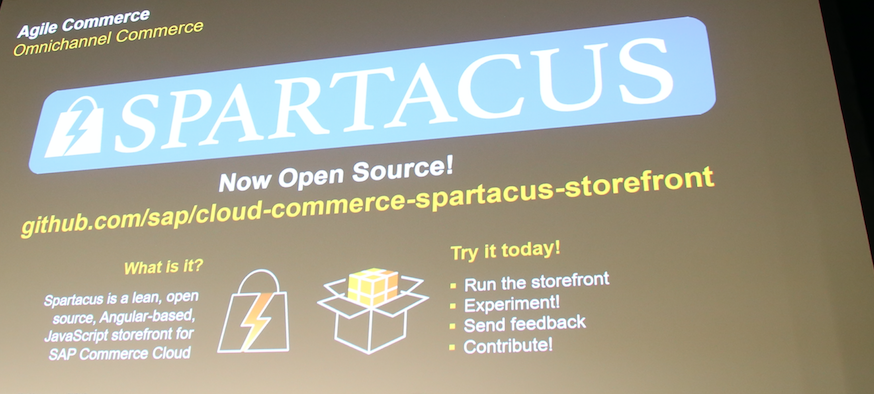 Spartacus is on a journey to be fully compliant with the
Progressive Web Application (PWA) checklist
. SAP aims to add support for all major features of a PWA-enabled storefront, to offer the best possible customer experience regardless of device or location. It is important that Spartacus is designed to be upgradable while maintaining full extendability. You'll be able to adopt new versions of Spartacus by updating the Spartacus libraries that SAP promises to enhance regularly. As promised, SAP plans the first beta in Q1 2019 and a launch date in Q2 2019. In the meantime, in order to ensure that the first release is as extendable and upgradable as they plan, breaking changes will very likely be introduced. Currently, Spartacus provides core storefront features, such as home page, search, categories, product details, cart page, adding to cart, checkout and order history. The code is released under Apache License v2.
SAP Upscale Commerce
SAP Upscale Commerce is a fast-to-market mobile solution, a companion to SAP Commerce Cloud. It is announced that it is "a brand-new SaaS-based unified commerce platform built on AI with a built-in merchandising tool, allowing companies to launch stores or new brands in less than two weeks".

Charles Nicholls highlighted that the platform is "designed for a fast commerce, mobile-first,  cross-channel, mid-market retail, CPG and direct-to-consumer brands". The "one-step" checkout process is integrated with Apple Pay. The solution supports both the mobile app and web-only modes. Supports replenishment items and product subscriptions.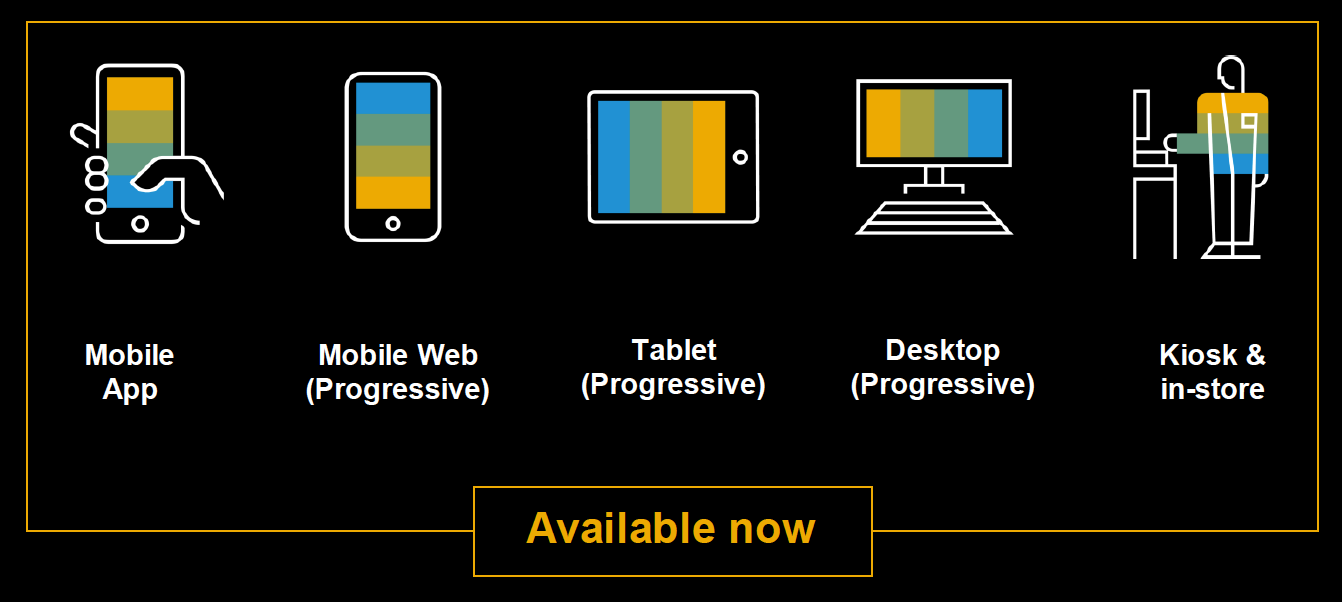 The component named Mobigram automatically personalizes for each individual and optimizes profit for the brand or retailer. Charles Nicholls noted that SAP Upscale Commerce generates native apps for iOS and Android, and Progressive Web apps to use the service in the browser. The concept "from the idea to go live in 7-14 days" sounds really impressive. Of course, it will work only with the relatively standard/simple set of requirements. As a brand-new solution, it is currently "in incubation" and available in the U.S. only. It is a great step forward from the existing mobile SDK, primarily due to the promises of rapid development.
To be continued.
Above are far from all takeaways and insights I gained from the conference. I plan a separate article about getting SAP Commerce Cloud ready for high traffic (performance optimization), a review of Kyma in detail, and many other interesting topics. Stay tuned!