SAP CPQ: New SAP Solution for Sales Teams
---
SAP CPQ (Configure, Price, Quote) is a cloud-based unified system for sales configuration and a part of SAP C/4HANA suite. As businesses grow, to be more and more customer-centric and sales management process gets complicated.
We have obtained the SAP CPQ certification and acquired the demo stand. In this article, we share an overview of SAP CPQ technical capability based on our experience.
This article is contributed by Pavel Shebarshin, EPAM Senior Business Analyst. 
Overview
The solution is designed to simplify and accelerate the selling process by providing the sales reps with the opportunity to build proposals for diverse products with a consistent cross-sell and upsell.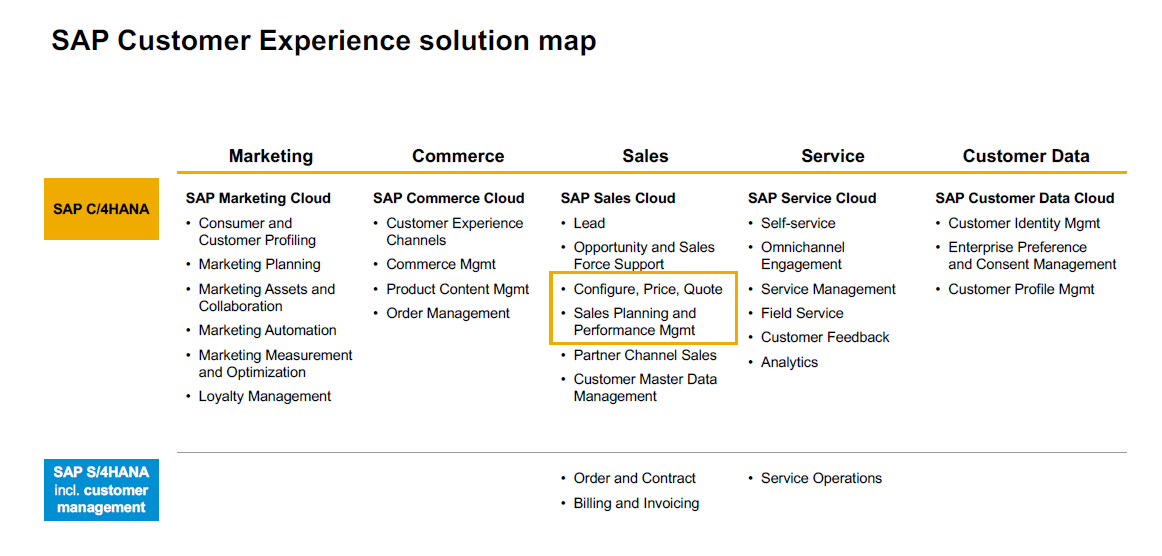 This tool belongs to the SAP Sales Cloud platform (formerly CallidusCloud), a part of the SAP C/4HANA suite which unites five component applications and was presented in 2018 at Sapphire conference.
Key Features
In our CPQ test & demo environment we have used Mercedes cars and components to observe the features. Below we are sharing CPQ cap abilities overview.
There are following features available for the Administrator at the set-up process:
Access to SAP CPQ Setup
Configure catalog, rules, prices (one time or recurring), permissions and documents
Approval processes (Workflow)
Configure other customizations
Import data (using standard tools)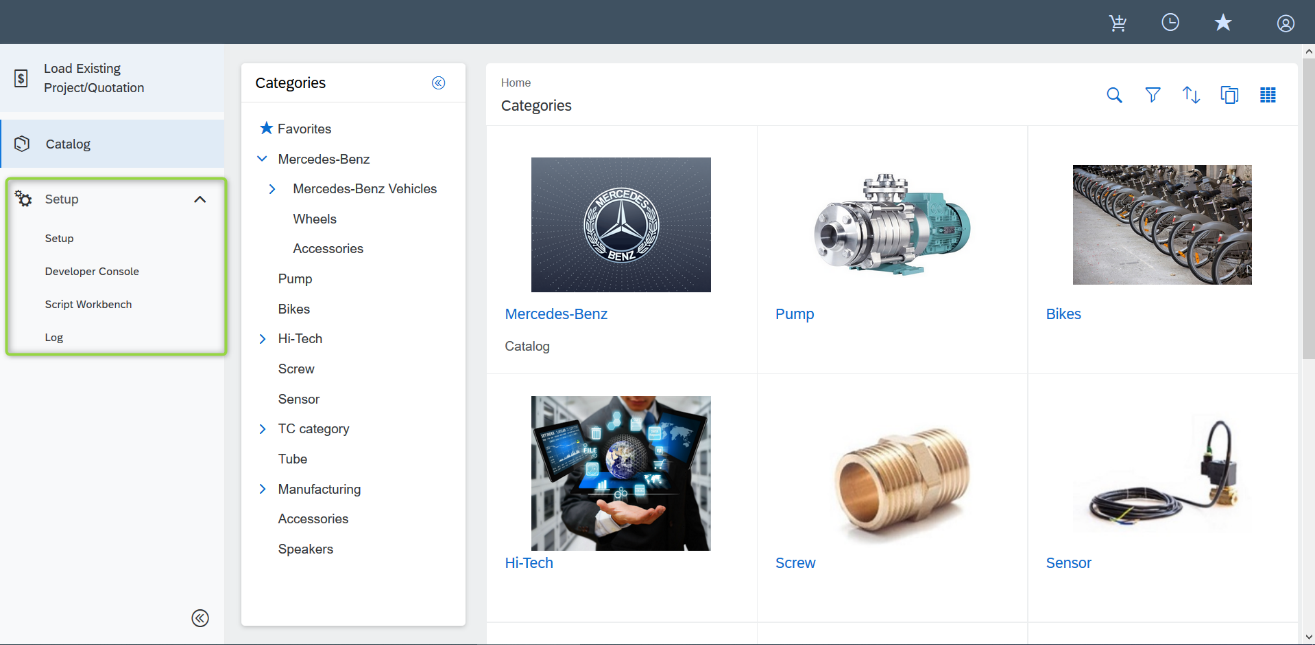 Based on the permissions configured in SAP CPQ set-up, an end user receives personalized landing page, language, catalog, prices, workflow settings and is provided with permissions to:
Configure products, discounts, and documents
Request and approve quotes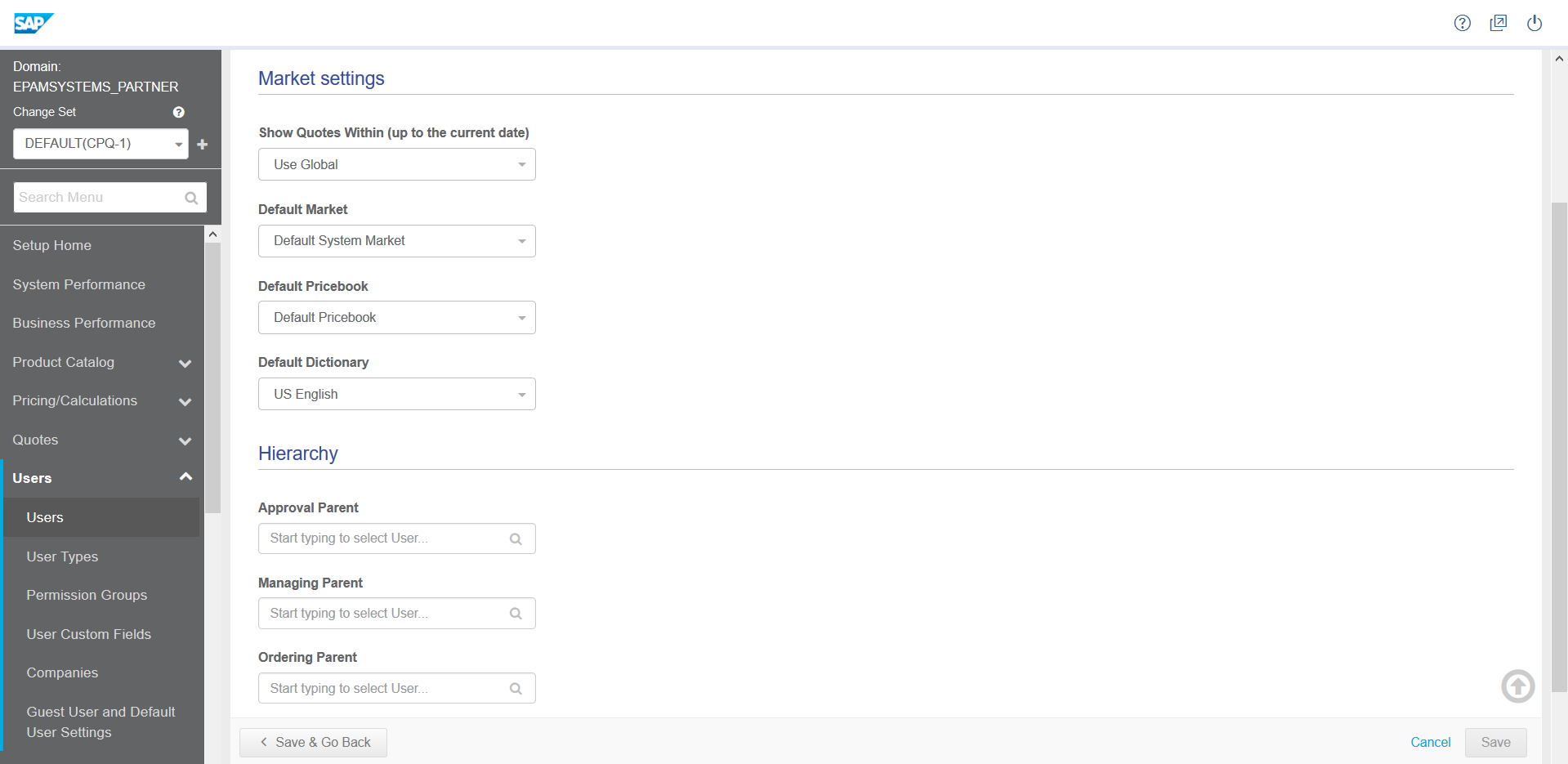 User should be assigned to a company and have a user type, they can be manufacturers or resellers, customers or clients. Companies might have a personalized catalog and prices.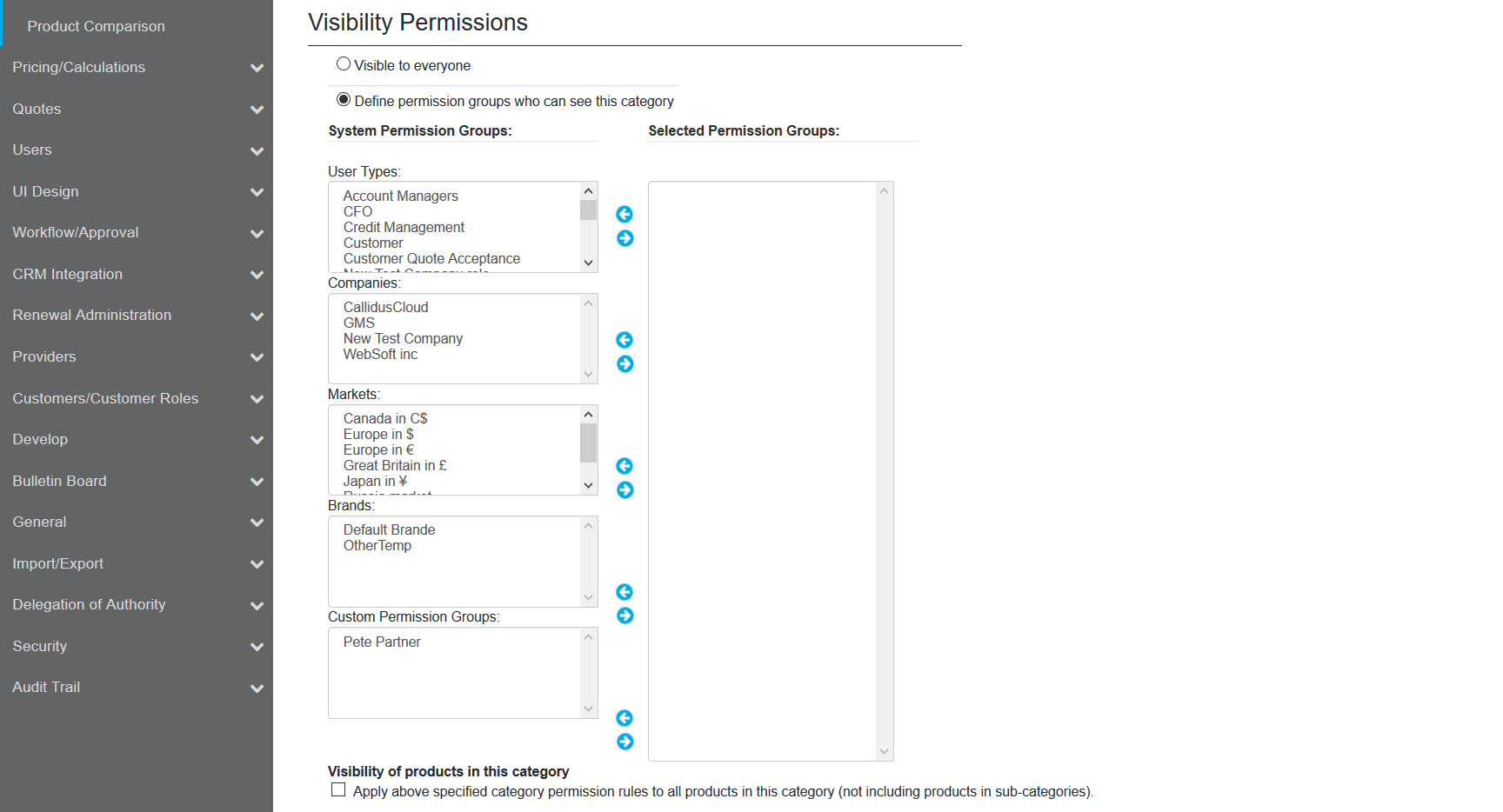 Products and related features
Products are either simple or configurable. Simple products have fixed attributes or no attributes at all, whereas the attributes for complex products can be configured. In other words, attributes are options for complex products and can be selected for a quote. Moreover, simple products may be used as attributes for the configurable ones. Simple products can be added to a cart directly from the catalog, complex ones must be configured by an end user before adding.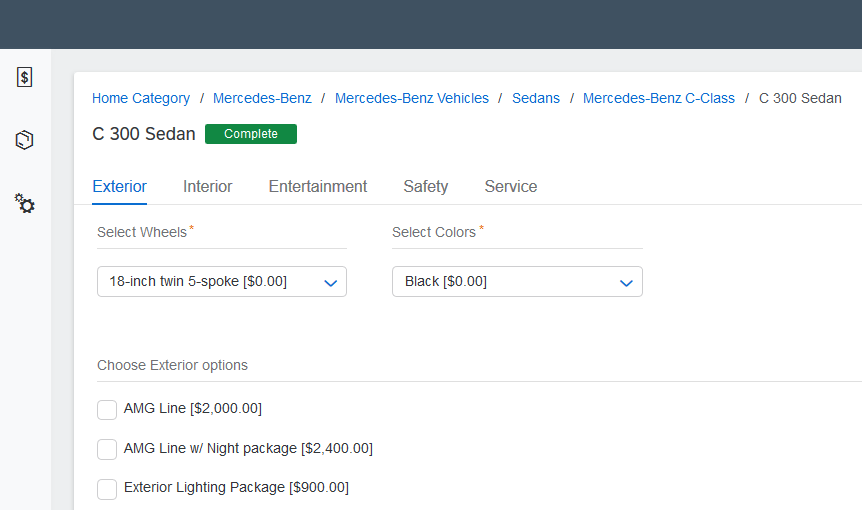 The user is able to define the product End of Life Status with two possible options – Discontinued (with no replacement option) or Replacement (with the replacement option).
Setup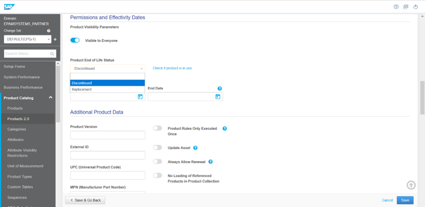 Replacement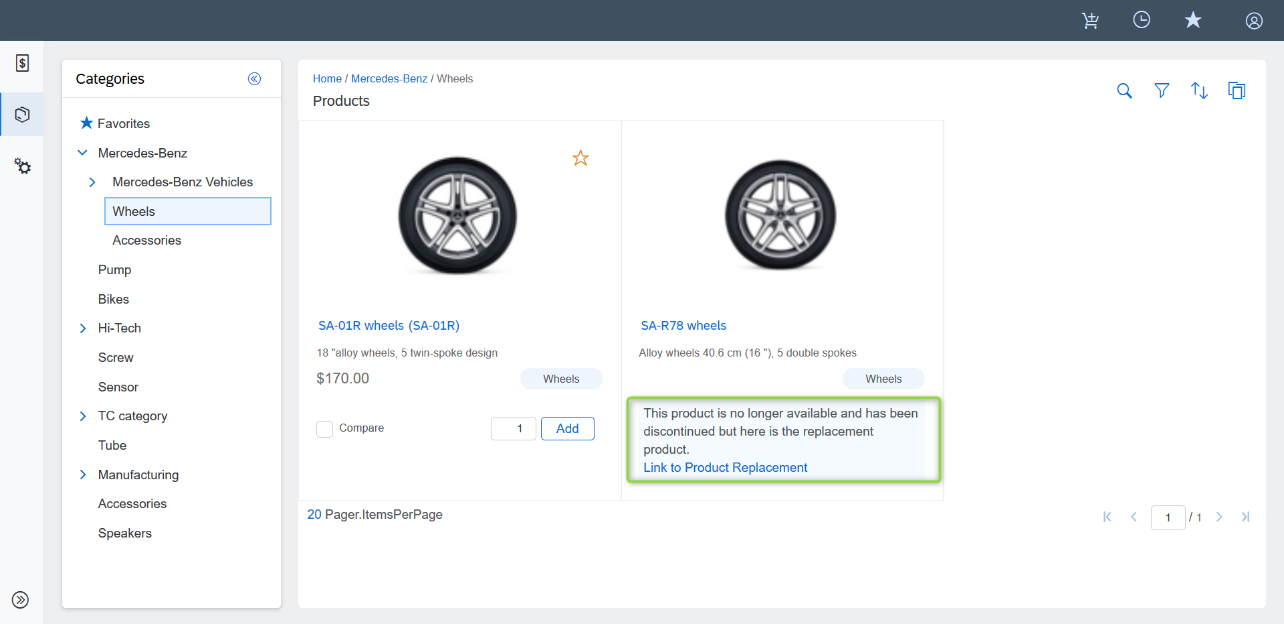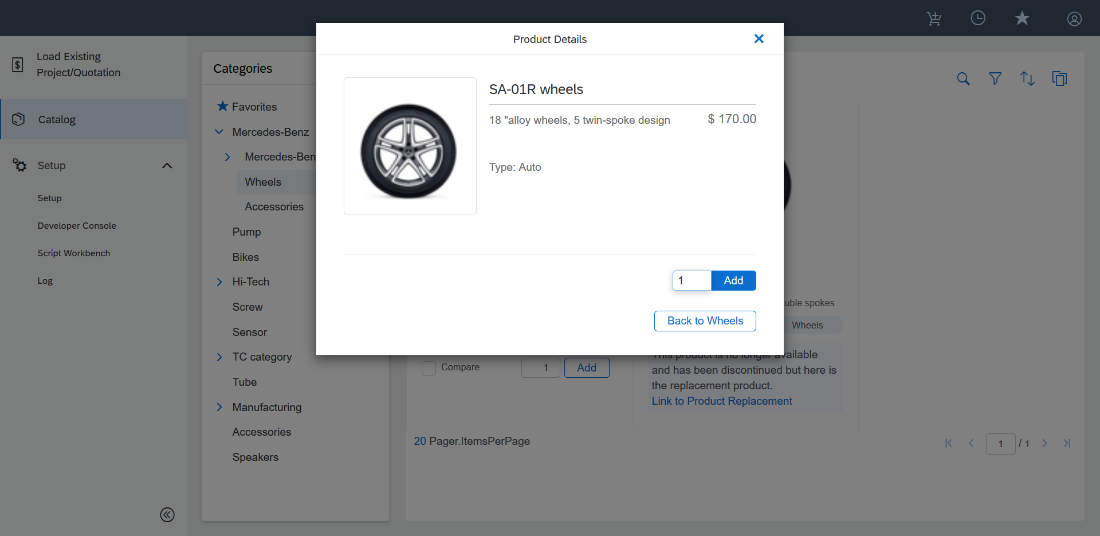 Discontinued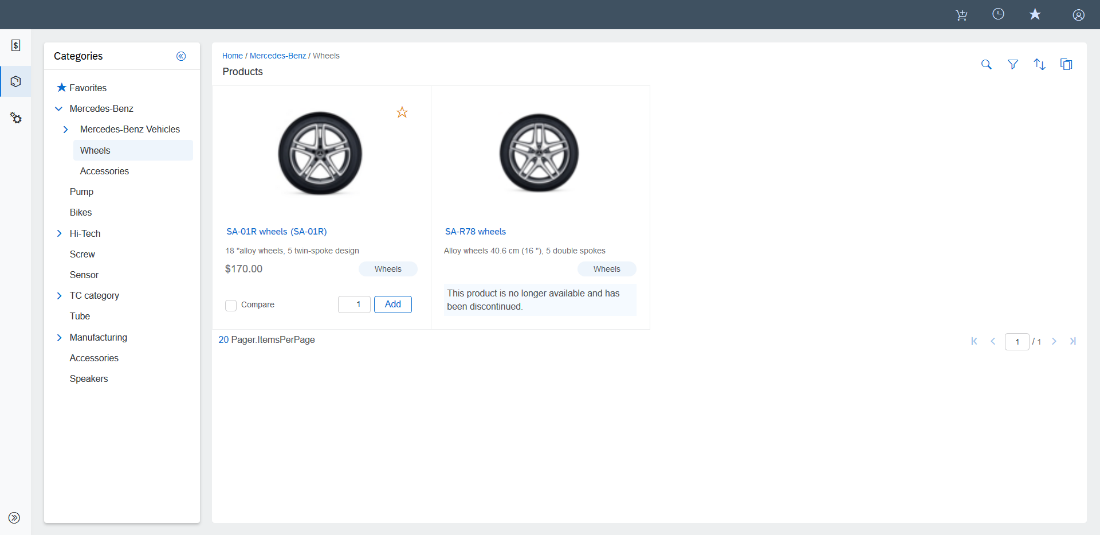 One configures complex products manually by adding required attributes and dividing them by tabs. The attributes position can be configured with drag and drop.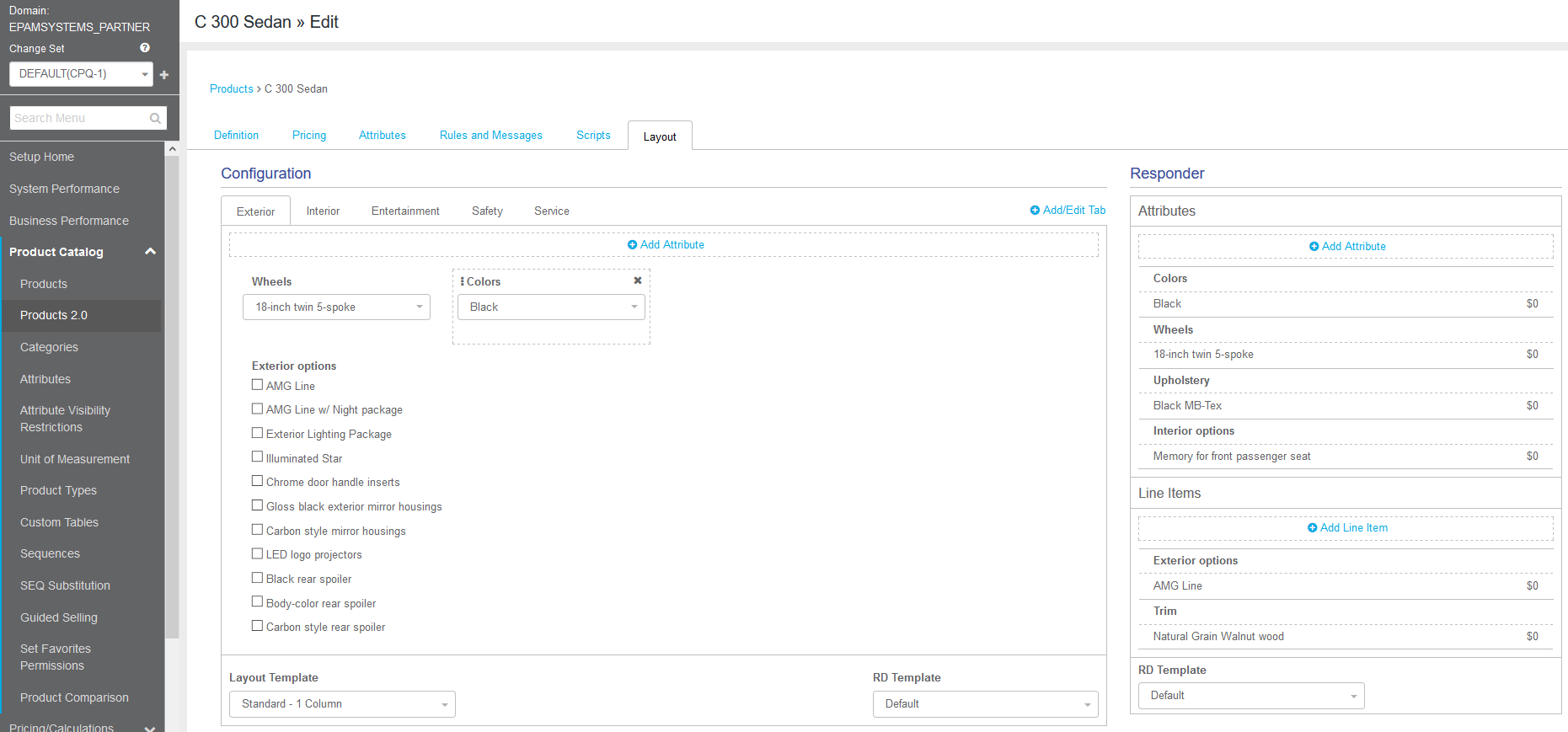 Attributes dependencies can be set up manually by the Administrator with a formula builder.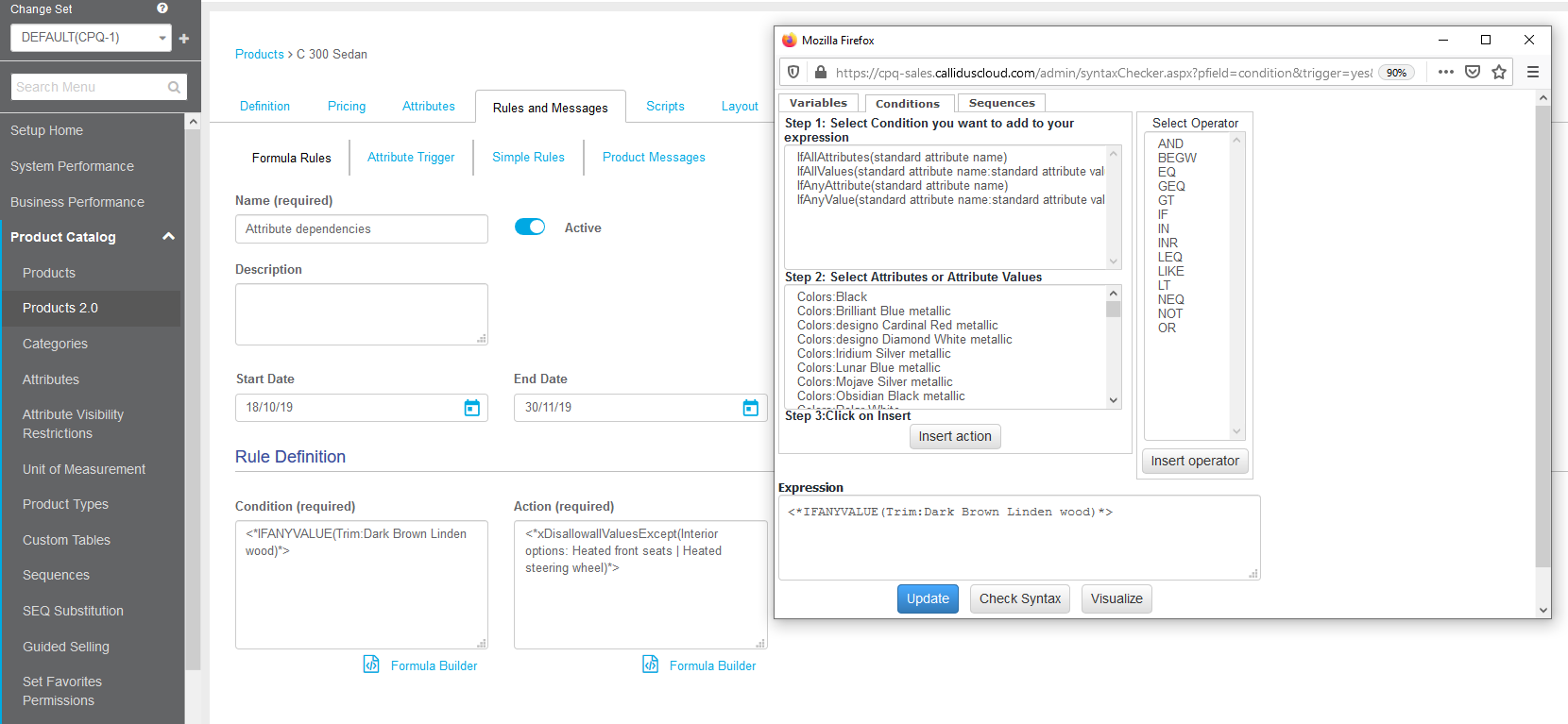 Once you have chosen a simple product or configured a complex one, you may proceed to Quote Details Page (Cart Page).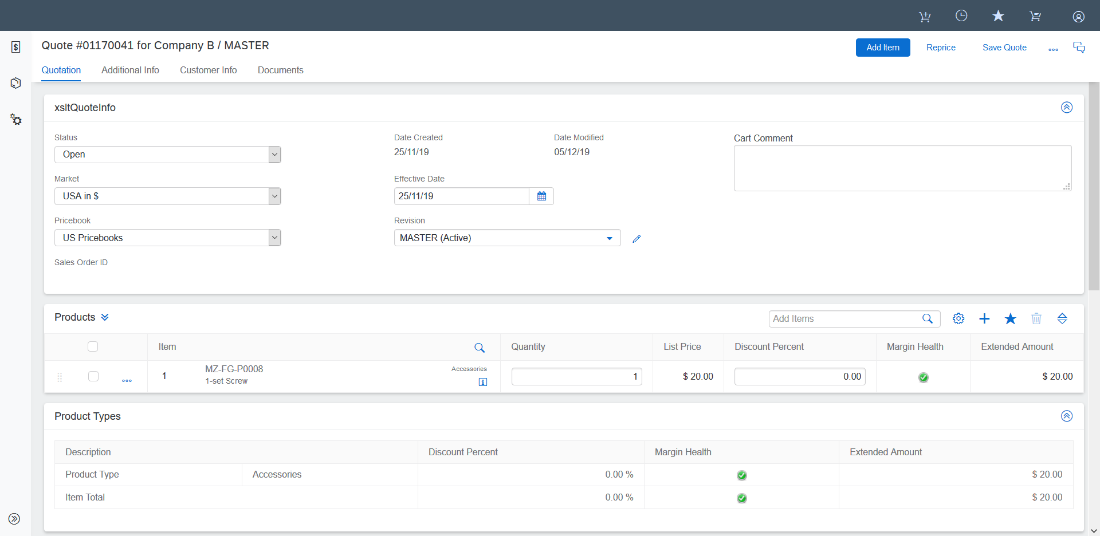 On the top of the Quote page we can see the promotions have been applied.

By opening the pop-up window, we get the Promotions details (already applied or suggested for a potential upsell/cross-sell).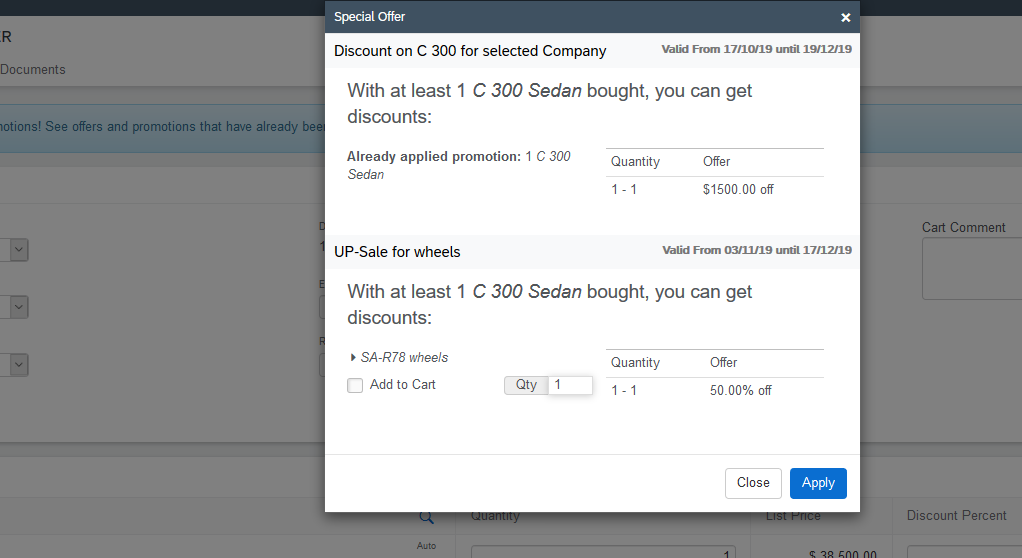 The promotions are set up by the Administrator with simple rules or scripts.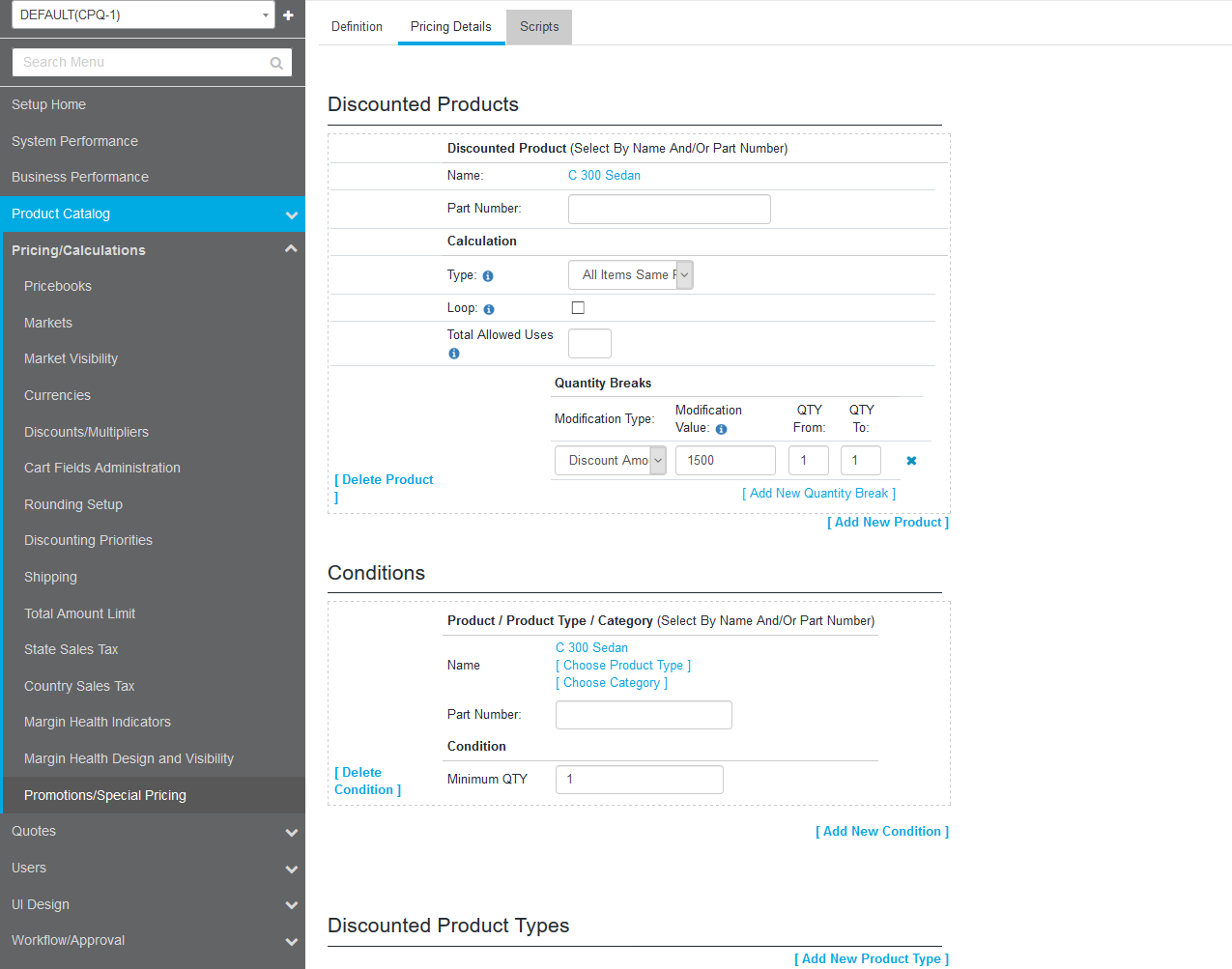 Additionally, the custom fields can be placed on any of the tabs shown within a quote. There are four options of custom fields to choose from:
Free form
Attribute
Date
Long text
We can also specify a calculation type by choosing from the following options:
None

Once the quote is created

Every time the quote is modified

Always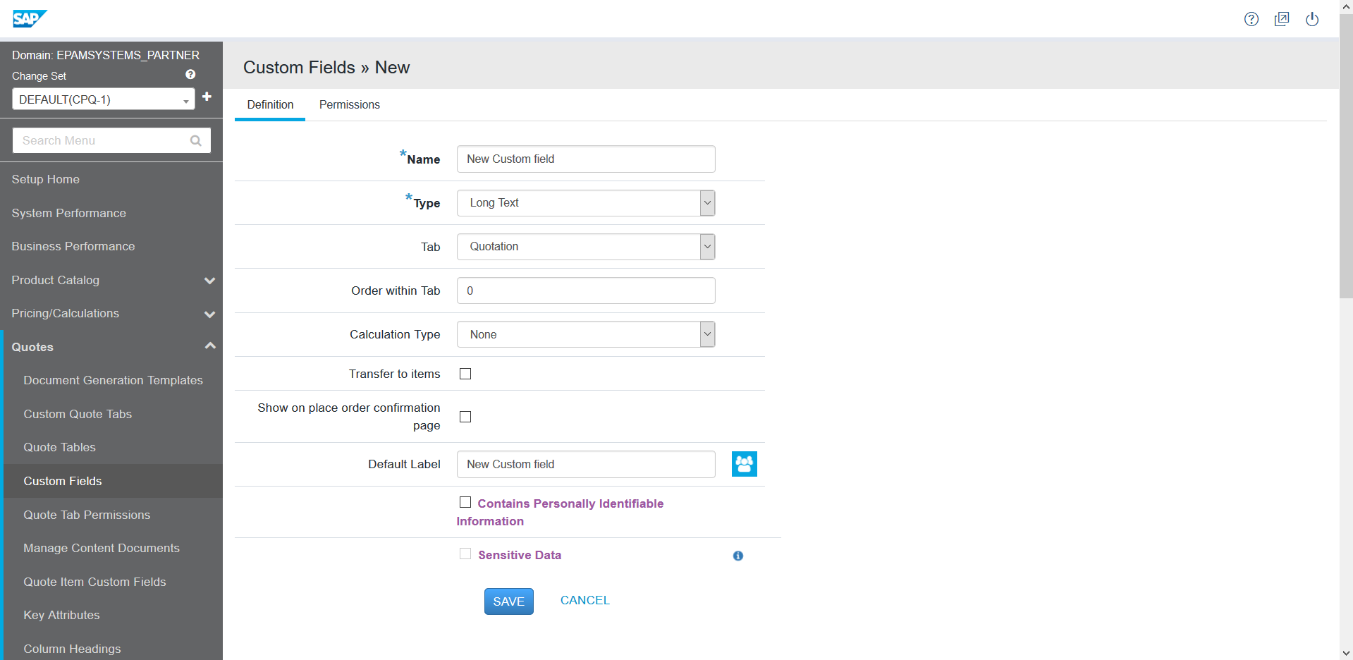 In the Permissions there is a matrix displaying all the user types in the columns at the top and all the quote statuses in the rows on the left. We can specify for any customer type or for any status if the field is editable/hidden/read-only/required.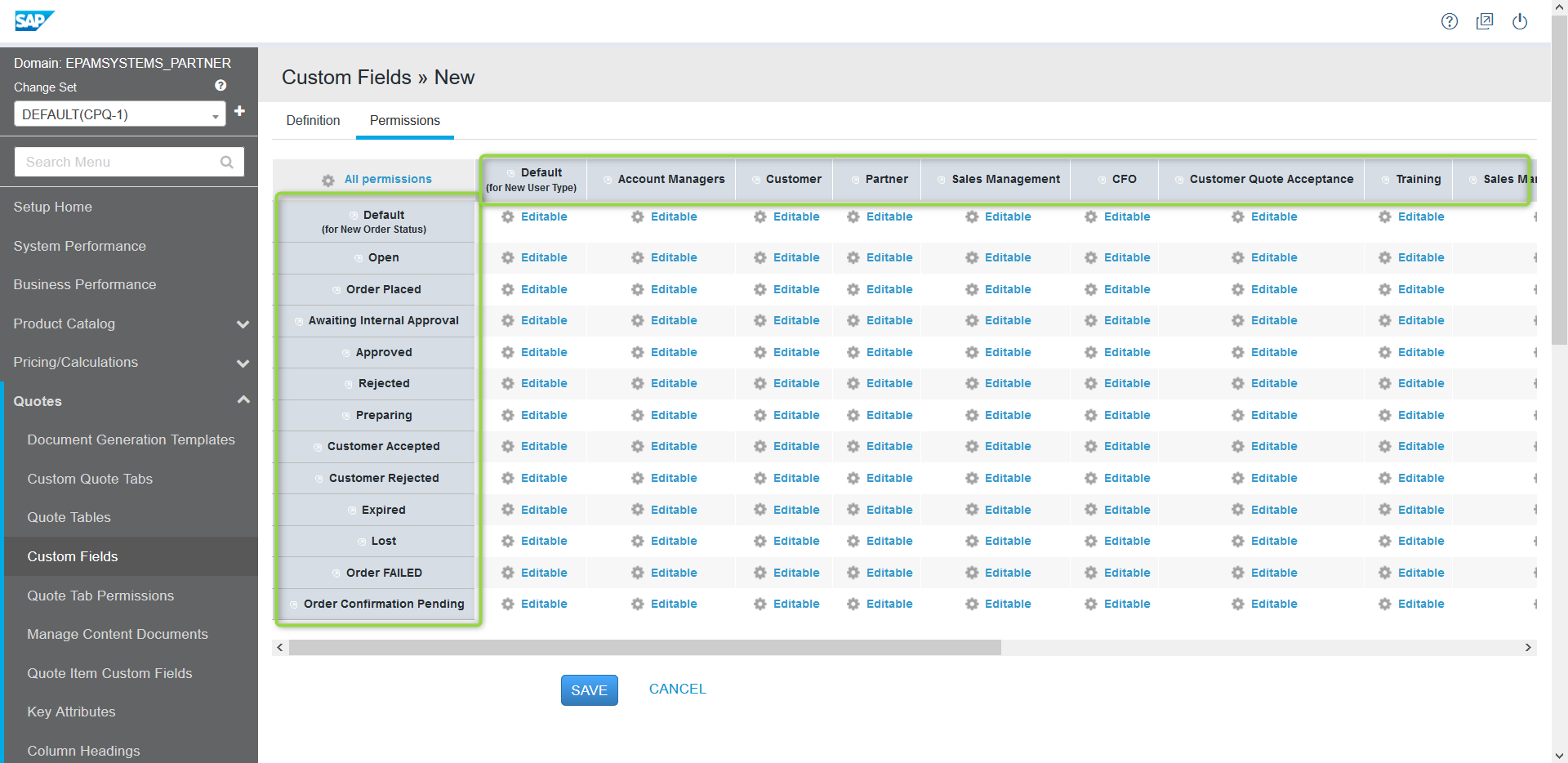 Once the Quote has been prepared for the customer, we can proceed to the quote-related documents generation.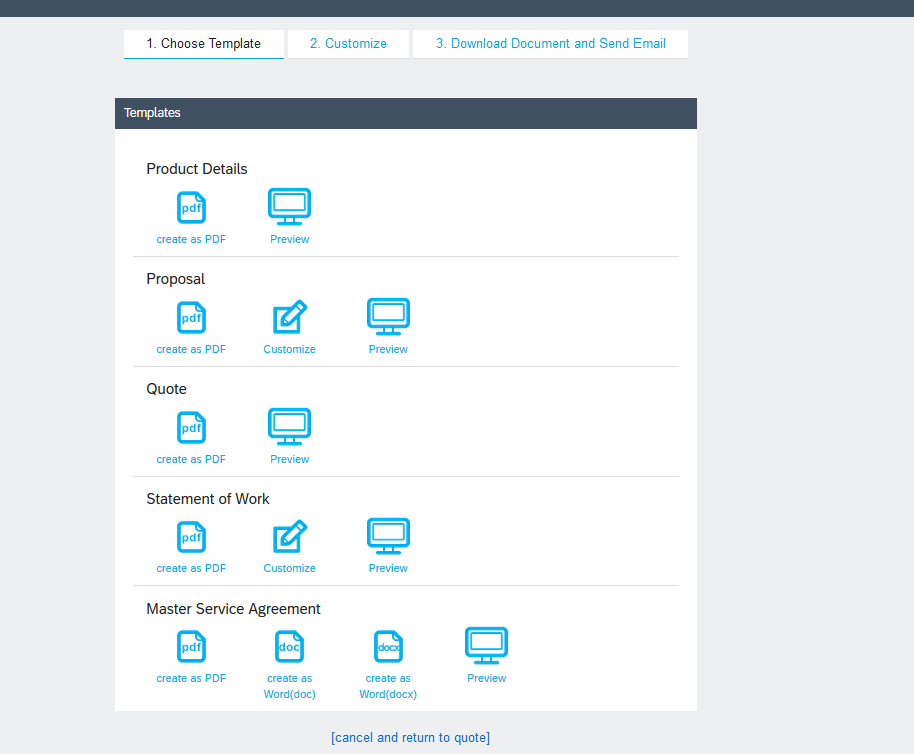 There is an option to customize the document templates by the Administrator for a particular customer.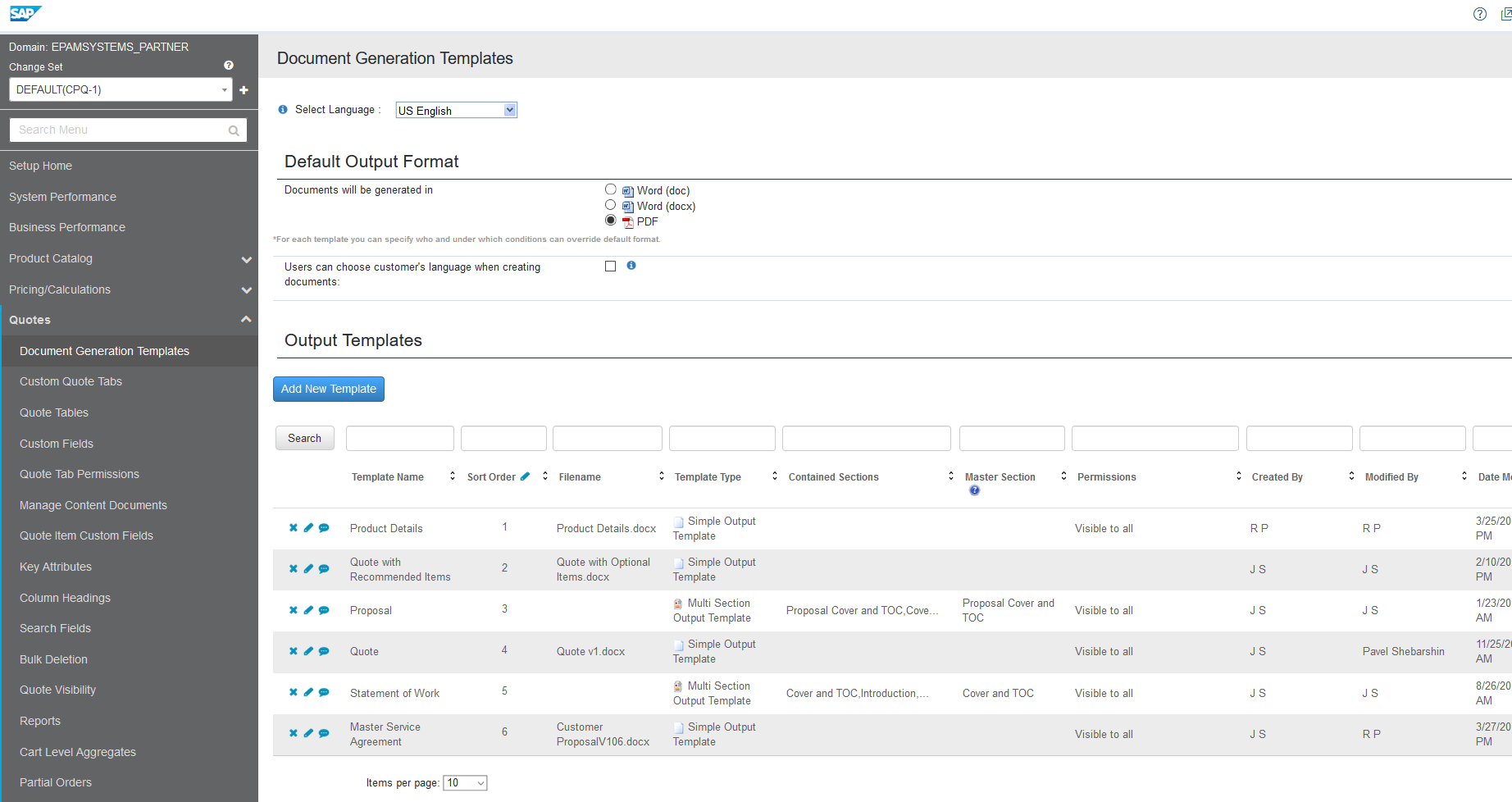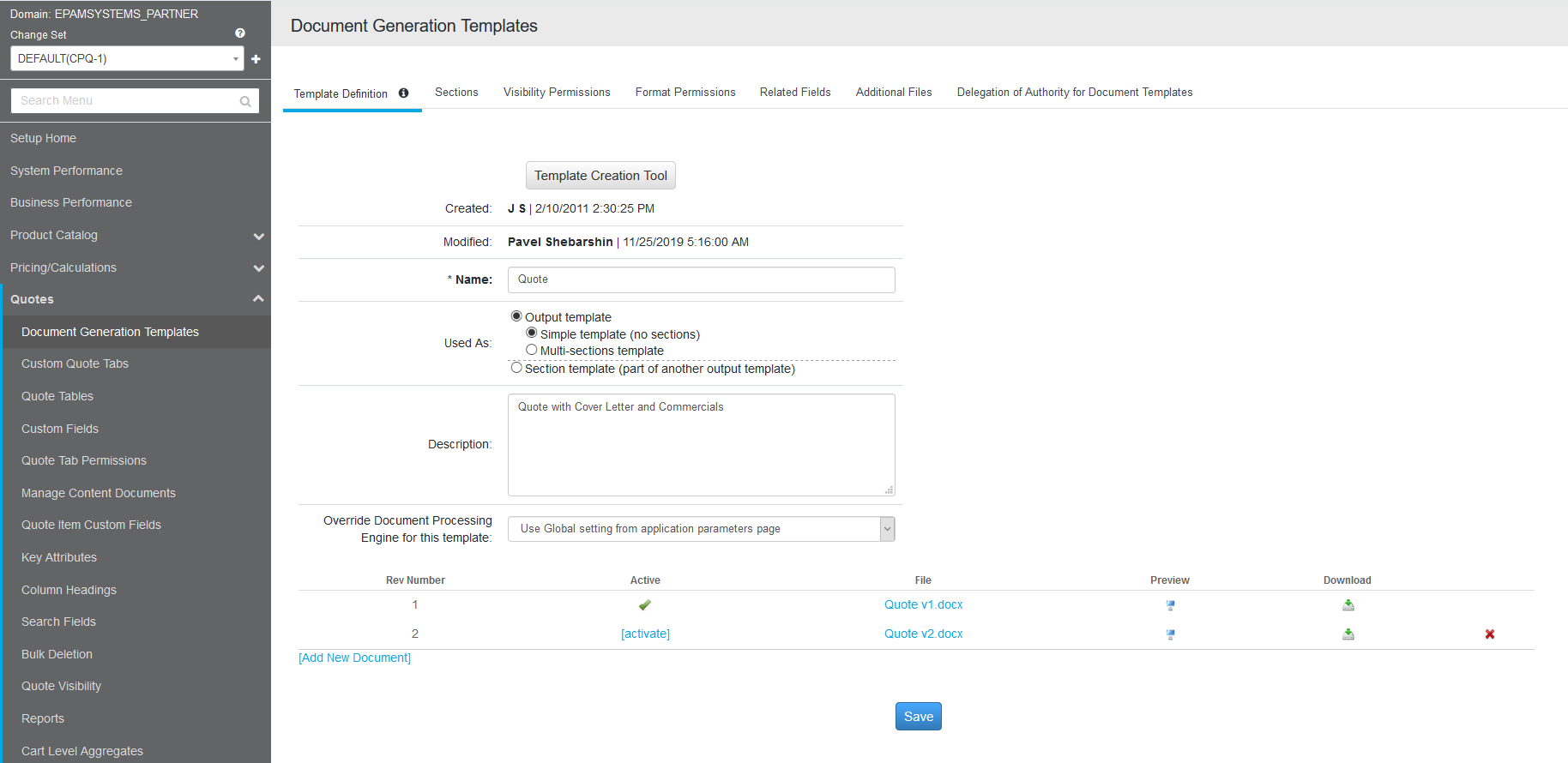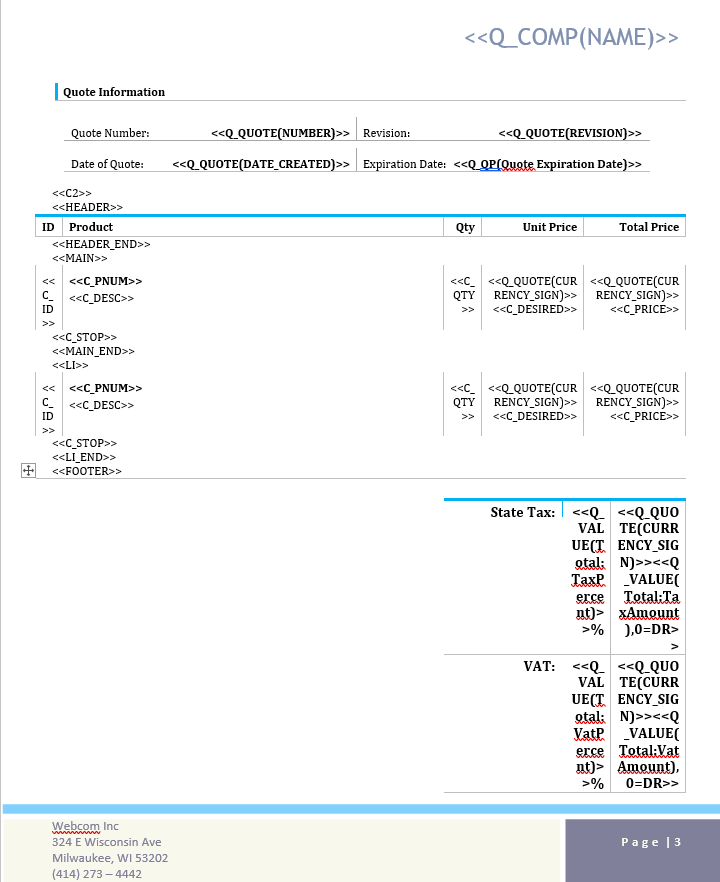 CPQ Pros and Cons
From my first experience with the product I can highlight the following strengths and weak points:
Configuration options are user-friendly implemented and give a smooth process of up & cross-sell, but I would like to note that a current version implies some restrictions on the catalogue:

One should manually assign attributes to existing configurable products when updating them – attributes are not processed for existing configurable products;
One can import maximum 2500 products at a time.

This might be time-consuming when working with a large catalogue. Also in the current system version one can't place attribute's values on different tabs when configuring a complex product.

 

The system supports 30 languages, multiple currencies and price books. However, the picture identifier doesn't support Russian language (it can be a minus for Russian users focused on Russian market);
Settings applied in the Administrative panel are not automatically displayed in the catalogue. To see the changes, one needs to switch from the Catalogue to the Administrative panel and vice versa. Still the Administrator functions are easily performed, providing the end user (the sales rep) with a personalized landing page;
SAP CPQ Integration Options
CPQ is typically integrated with at least one of these systems:
Customer Relationship Management (CRM)
Enterprise Resource Planning (ERP)
Contract Lifecycle Management (CLM)
Electronic signature solutions (such as DocuSign and AdobeSign)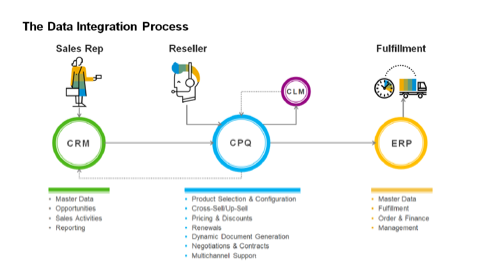 Summary
Thank you for reading the article on SAP CPQ – we hope this overview based on our demo stand gives you a basic understanding of the features and tool value for the end users. We will be glad to see your comments and questions.
Pavel Shebarshin,
EPAM Senior Business Analyst.