The power of best of breed: Integrating SAP Hybris and Sitecore CommerceConnect
---
Over a year ago, EPAM released an SAP Commerce Cloud + Sitecore connector, giving enterprises a golden opportunity to bootstrap an end-to-end, best-of-breed e-commerce plus CMS solution faster than ever. Later, we published a webinar where the solution was demonstrated in detail and its architecture was explained. The webinar, "The Power of Best of Breed: Integrating SAP Hybris + Sitecore" was hosted by EPAM and General Electric. If you missed it, below you can catch a recording of the webinar with my guest Diego Lopez Moreda from General Electric. For those that prefer reading than watching, below you can find a transcript of the webinar with the key slides integrated. I hope it will be useful to those interested in headless commerce solutions. Bear in mind that the world of e-commerce (and the world of CMS) is everchanging. Since this webinar was first published, both SAP Commerce Cloud and Sitecore have continued to improve and evolve, and new and existing competitors continue to challenge their supremacy. Ultimately, tailored research is necessary to get the latest facts related to your specific business concerns. EPAM can help.
---
Perhaps you're just beginning your digital transformation journey and you aren't sure where to start. Or perhaps you have already embarked on your journey, but your solution is not delivering the results you want. Perhaps your solution is functional but there is resistance in your organization because it does not help those interacting with it day to day get their work done. Maybe it's not nimble enough to adapt to your evolving IT landscape, maybe your marketing and IT groups are warring. Navigating the complex landscape of content and commerce platforms can be challenging.  How do you select?
Options for Integrating Commerce and Content Solutions
Here's what the analysts say. Our story begins with
a report
at Forrester by Mark Brannon entitled "
Content and commerce technology: traditional marriage dynamics don't apply anymore
".  In this report, Mark talks about the evolving nature of content and commerce systems. Something that EPAM has witnessed and driven as a digital thought leader for our clients. We see that solutions in these spaces are maturing. Mergers and acquisitions are rampant, and their capabilities are expanding into new territories. Yesterday's architecture no longer applies. The Forrester report highlights seven options for integrating commerce and content solutions to solve enterprise-grade digital needs. Each of these patterns has its own pros and cons and each may be ideal for a particular niche.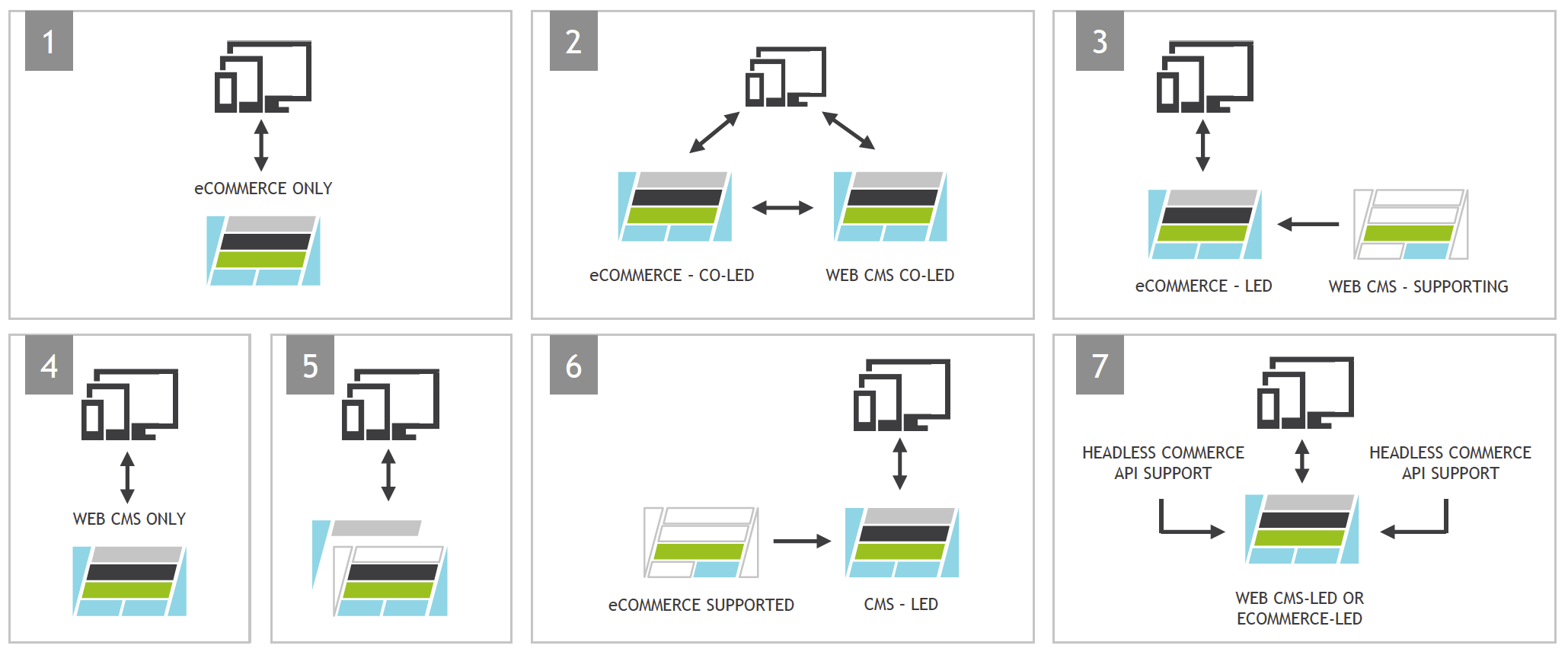 Source: https://www.forrester.com/report/Content+And+Commerce+Technology+Traditional+Marriage+Dynamics+Dont+Apply+Anymore/-/E-RES136256
However, out of these seven options, two are emerging as the winning architecture in the vast majority of cases. And this is what EPAM sees from the market as well.

The first pattern is an 
e-commerce only solution
. Essentially e-commerce solutions as a class have grown in sophistication and capabilities over the years, and in many cases are now simply "good enough". The second pattern is 
headless commerce
. This pattern recognizes that for many organizations "good enough" is not sufficient. They want best-in-class capabilities to outperform their competitors and bring agility to their business. Thus, they decide to marry an e-commerce solution to a CMS solution to achieve the best both worlds have to offer. This is the gold standard for digital architecture today. But which platforms make sense in this setup?
Why SAP Commerce Cloud? Why Sitecore?
Let's take a look at what is best in each world, starting with commerce.

On the left, we can see Gartner's 2017 Magic Quadrant for commerce platforms. Similarly, on the right, we see the 2017 Forrester Wave for both B2C and B2B commerce. When it comes to best of breed commerce platforms, Gartner and Forrester agreed to place SAP Hybris Commerce as a number one in each of the upper right corners of these graphics. Next, let's take a look at what is the best in the CMS landscape.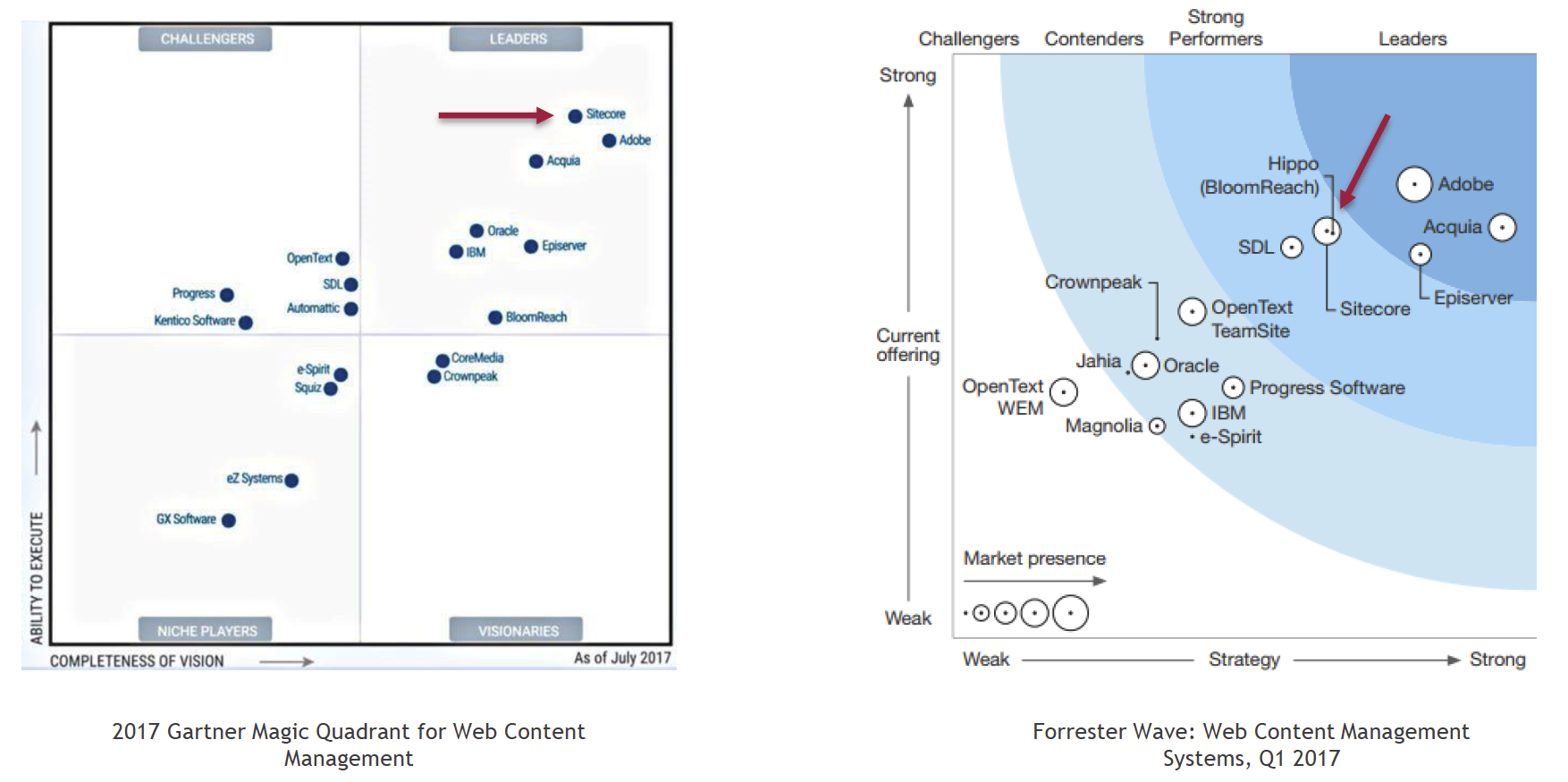 On the left, we can see Gartner's 2017 Magic Quadrant for CMS platforms. Similarly, on the right, we see the 2017 Forrester Wave for content. Unlike Commerce, the content landscape is more competitive with Adobe Experience Manager, Acquia and Sitecore, all reflecting well in both analysts reports. Based on EPAM's extensive and global experience with content platforms we have detected a trend in the market pointing towards a growing interest in Sitecore as the up-and-coming content platform of choice. What happens when we marry the best commerce platform with the best content platform? Let's take a closer look at these platforms.
SAP Commerce Cloud and Sitecore
As a modern, flexible and modular commerce solution, SAP Hybris Commerce:
Can deliver an omni-channel solution across channels like web, mobile and point of sale while unifying commerce processes and commerce-focused data management
Can host and provide a single view of customers, products and orders
Can be efficiently integrated into ERP, CRM, OMS and other systems
Though the platform can handle complex solutions, it strives to provide simple processes and lower adoption and training effort by providing a consistent back-end experience in its various modules
Has an extensive ecosystem of leading third-party digital product providers that have developed connectors
Natively integrates into the world's leading back-end enterprise software by SAP (thereby reducing implementation costs)
The Sitecore Experience platform is a digital experience platform that is omni-channel in nature, including web, mobile, social, email, commerce and more.
It is most often used for end user facing systems.
Sitecore's roots are as a web content management system, and this is still a key feature of Sitecore today.
Furthermore Sitecore's Experience Management lets you gather, combine and analyze information about how each individual customer has interacted with your brand.
Both in real-time and historically this is powered by the Experience Database – a database of all user interactions tracked by Sitecore.
Sitecore is also built to integrate with other systems in the digital landscape.
Let's reflect back on the Forrester report from the beginning of this webinar. One of the conclusions reached was that the commerce and content worlds are converging. With that in mind let's spend some time comparing both of these leading platforms side-by-side.
Products are at the heart of an e-commerce solution and Hybris has an in-depth ability to handle a variety of complex product types including hierarchical variants like size and color, bundling and configurable products. Sitecore can handle products as well. However, the capabilities are not as rich, out-of-the-box. Both Hybris and Sitecore are capable of operating as a standalone product information management or PIM system if desired. However, Hybris has a few extra bells and whistles in this space like their classification engine which gives at the edge.
Pricing. Both Hybris and Sitecore handle pricing, but Hybris has more flexible and varied pricing options such as bulk pricing and time-based pricing. With respect to promotion engines, the two platforms are fairly similar in out-of-the-box functionality with a suite of promotion types on offer, coupons and rule engine based promotion engines, though the technology behind those rule engines differs.
Checkout. Hybris wins based on its roots as an e-commerce engine. Out-of-the-box it has an almost fully functional checkout needing only a payment provider connected to it. Sitecore has equivalent API hooks to tap into, but does not offer any equivalent ready-to-go functionality.
Order Management. In recent releases, Hybris has made a series of investments in its OMS offering to the point that it can now displace many stand-alone OMS solutions with its pick and pack warehouse assignment, order splitting and consignment capabilities. Sitecore has some basic order management capabilities but lacks these more comprehensive features.
Content Management. Sitecore really shines in the web content management space offering a much more intuitive user interface that more naturally fits the needs of content curators and merchandisers than the Hybris offering. This reflects Sitecore's roots as a content engine. Similarly, although both platforms can describe and execute complex workflows, Sitecore more naturally enables non-technical users to construct new workflows, while Hybris benefits from someone technical doing the workflow creation.
Web Analytics. While Hybris comes with some integration with Google Analytics and has an ability to export data for external analysis, Sitecore has a more robust offering out-of-the-box including its own data export capabilities and adding reporting on top of its proprietary analytic engine.
Personalization.  SAP Hybris Commerce ships with its behavioral target groups functionality for segmentation and personalization. However, EPAM's performance testing has shown that this subsystem is a significant performance drain on the platform. SAP typically recommends SAP Hybris Marketing as its personalization engine now. In contrast, Sitecore has rich personalization capabilities that are easier to configure and more efficient in their execution. In fact, personalization is one of Sitecore's most acclaimed feature areas, rivalling web content management as a standout functional area.
Customer Support. Sitecore does not support customer service capabilities out-of-the-box. In contrast, Hybris has been making investments in this area, renewing their customer service cockpit and introducing their assisted service module that lets customer service agents leverage the storefront on behalf of a customer. Recent API enhancements also improve support for headless commerce scenarios.
Integrations. Both platforms are flexible with integrations and well adapted to the fragmented digital landscape. However, Hybris edges out a win here with its native support for industry-leading SAP back-end systems such as ERP, CRM and S/4HANA, along with access to cloud-based microservices and Data Hub which offers "ESB light" capabilities.
3rd party modules. Both platforms also have a robust marketplace of third-party product connectors and add-ins. Sitecore's marketplace heavily emphasizes digital marketing, while Hybris's marketplace includes more e-commerce extensions, but is also more well rounded in general due to its greater maturity.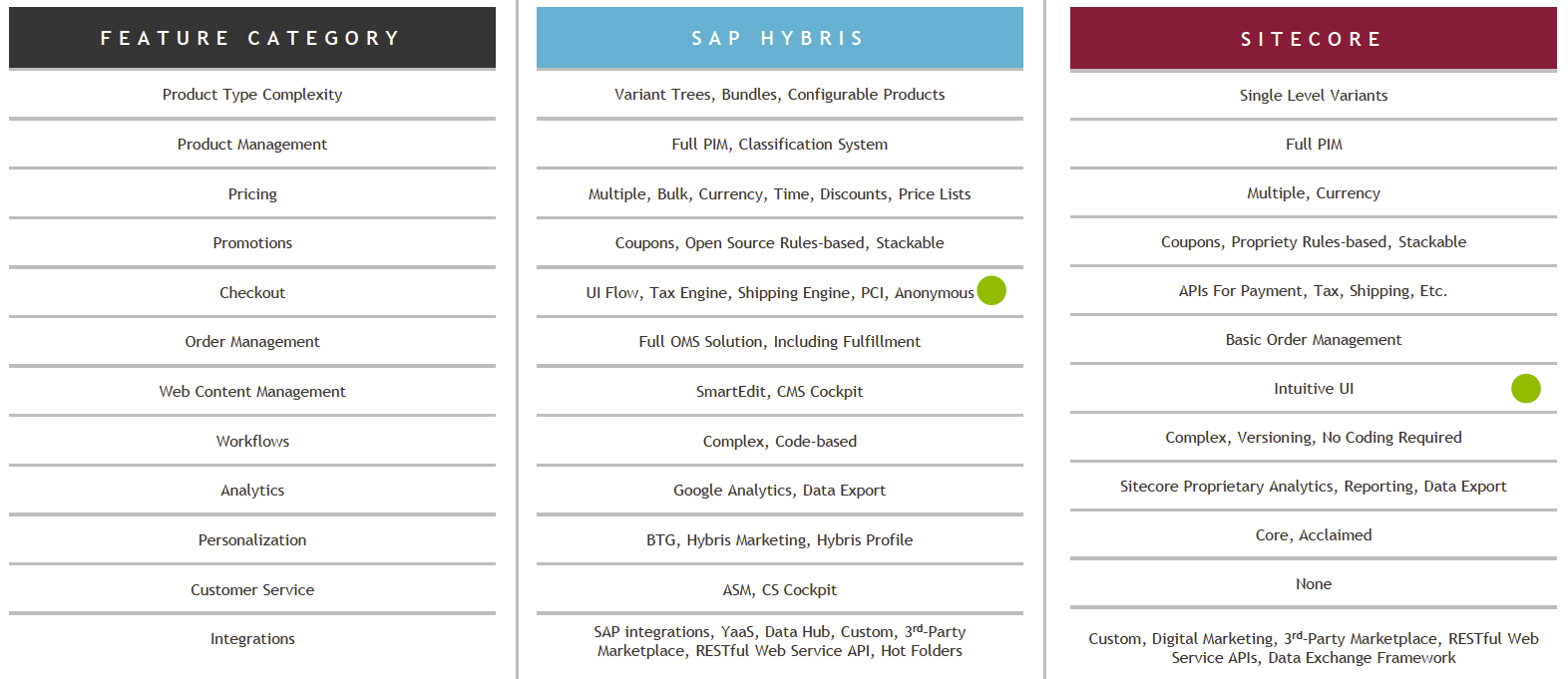 When we marry Hybris and Sitecore together in a headless commerce architecture, we can start to see why this pairing is trending in the market. With leading-edge content capabilities, Sitecore is able to better serve the needs of content curators, merchandisers and others operating on the business side of an organization and interacting daily with the solution. Similarly, with leading-edge commerce capabilities, Hybris is able to handle the heavy lifting behind the scenes, offering a richer, more complex and nuanced representation of today's complex businesses. This better serves the needs of an organization's IT department.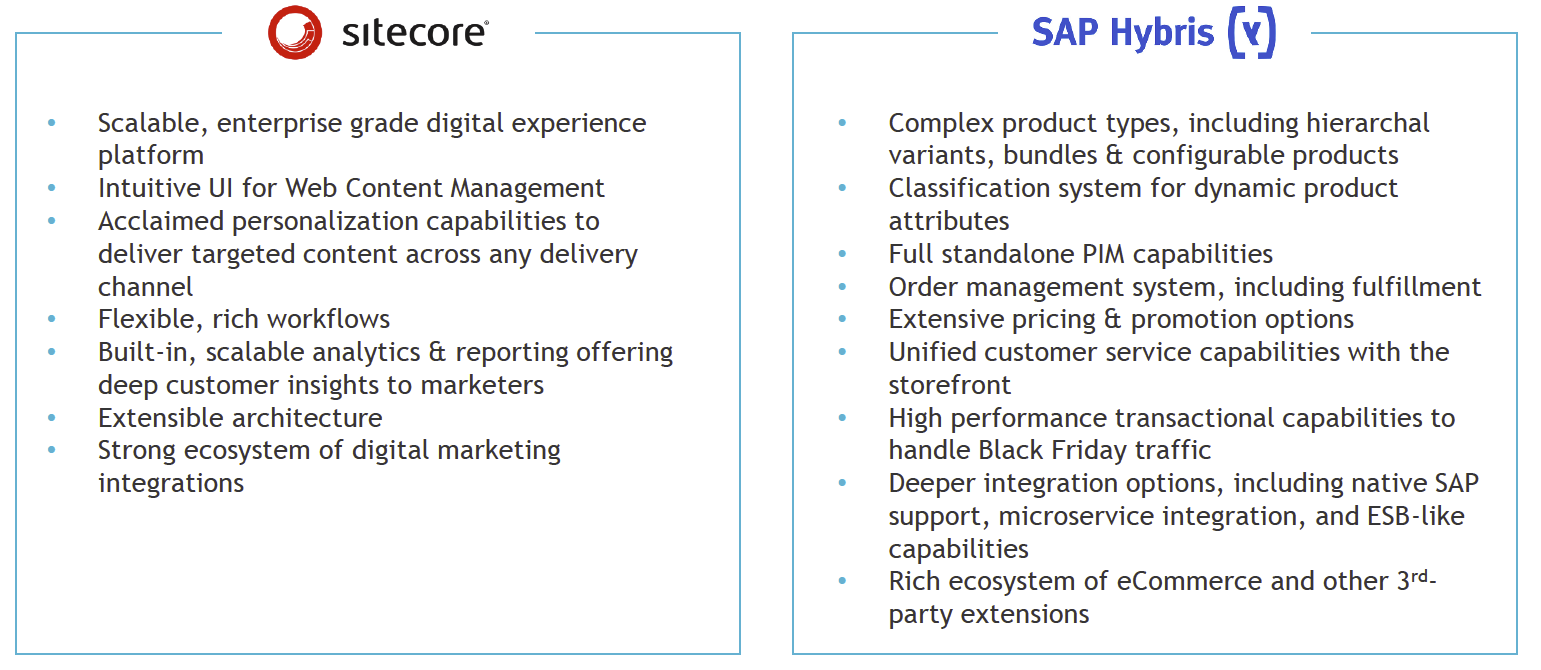 In essence, we have the best of both worlds. So, what does it take to connect these two popular platforms? EPAM, in response to this market demand, has developed the first Sitecore + Hybris connector. Leveraging Sitecore's Commerce Connect framework, we are able to seamlessly tap into Sitecore's natural commerce tendencies and power them using Hybris' Omni-channel Connect, RESTful web service API layer. This is done via an interpretive layer that translates the Hybris Commerce world into a language that Sitecore understands. The solution is therefore very stable in the face of upgrades of either system and does not require extensive customization or long setup times, because it works with each platform rather than fighting against them.

This connector has become the gold standard in connecting these two leading platforms, as recently showcased at the Sitecore Virtual Summit and at the Festival of Marketing. Let's see how Sitecore and Hybris work together in the real world using this connector, as showcased by the solution General Electric Healthcare envisioned and which is now publicly available. Please refer to the webinar recording to see Diego Lopez Moreda from General Electric present the General Electric Healthcare solution.
Drawbacks To Be Aware Of
While the combination of Sitecore and Hybris is both powerful and compelling, there are some drawbacks to be aware of.
Increased complexity. Solutions in the digital space are complex by nature. Certainly, both Hybris and Sitecore are on their own complex platforms able to solve complex requirements. Bringing the two together, however, increases the complexity involved as there are now two major platforms to contend with, in addition to all the minor players a fully baked solution entails. This means more integrations, more potential points of failure, more data exchanges and data caching, and more challenging diagnosis if something goes wrong.
Steeper learning curve. Adopting these platforms is always a learning journey for those that need to manage them and operate them as part of their day-to-day activities. While a properly designed Sitecore + Hybris solution will isolate key employee functions and roles to one platform or the other, fundamentally there are still two platforms in play and the organization as a whole will have a steeper learning curve.
Distinct Technology Stack. Hybris and Sitecore do not share the same technology stack. Hybris is Java-based, whereas Sitecore is based on .Net. This means that the IT organization will need to incorporate additional skill sets to build or support the organization, or the organization will have to source their system integrator from a limited set of companies like EPAM that have specialization in both.
Heavier lift for upgrades. When considering the evolution of a Sitecore + Hybris solution, platform upgrades are key consideration. With two major platforms in place the overall upgrade effort is heavier than with a single platform as your solution.
…But increased agility. However, this extra lift is offset by being able to upgrade only one piece of the system at a time, bringing some increased agility to the solution and ensuring that upgrades can be focused around derived business value.
Expensive licensing for both. Lastly, a headless commerce solution, while more powerful, is also more expensive to license, build and maintain. Only those committed to unleashing the benefits of true digital transformation within their organizations will reap the necessary ROI to justify the cost.
Level Up: Adding Sitecore to SAP Commerce Cloud
So, you're sold on the benefits of Hybris plus Sitecore. What do you do? Let's say that you already have an existing SAP Hybris Commerce implementation. This implies that you have a working transactional site likely using Hybris' CMS capabilities that you seek to replace with those in Sitecore. To achieve this goal, on the Hybris side you will need to ensure that the Omni-channel Connect RESTful web service layer is available and access to it is configured using OAuth. Sitecore will need to be installed including Sitecore Commerce Connect. Sitecore packages including EPAM's Sitecore + Hybris connector will need to be deployed. Both will need to be configured and customized to match the customizations already present in the Hybris data model, etc. Since Sitecore will assume the responsibility of serving webpages to the consumer, a 401 redirect mapping should be developed mapping former Hybris pages to their new Sitecore counterparts in order to preserve search engine rankings post-cutover. Ideally Hybris and Sitecore will live in the same server environment to eliminate latency in the solution. EPAM recommends avoiding "boiling the ocean" and resisting the urge introduce net new business requirements during the initial release. These additional bells and whistles can be done via fast follow releases after the initial Hybris + Sitecore go live. However, for those willing to be bold, the beauty of this evolution of your digital solution is that, if you wish, you can run both the Sitecore storefront and a Hybris storefront concurrently for a period of time. This is feasible because in either case Hybris maintains ownership of the transactional data and other back-end considerations. This allows you to A/B-test your new and old sites, which can be especially beneficial if you also seek to redesign your user experience at the same time as when you introduce Sitecore.
Level Up: Adding SAP Commerce Cloud to Sitecore
On the flip side, if you have an existing Sitecore solution you are likely starting from a non-transactional digital offering. In this case, EPAM recommends that you introduce Hybris in numerous smaller releases, each of which brings you closer to the end goal of a fully transactional e-commerce solution. The first step would be to introduce EPAM's Sitecore + Hybris connector and connect SAP Hybris Commerce to the existing Sitecore solution. Then, using the connector, migrate any existing data that Hybris should now serve down to Hybris and have Sitecore retrieve it through the connector. From there you can begin to build out the other transactional pieces of the final solution going live with enhanced value each step of the way. No products in Sitecore?  Introduce PIM capabilities via Hybris and feed those up to Sitecore? No pricing? Add those two Hybris and have Sitecore display them. Then inventory information, and so on. The checkout processes typically has a multitude of integration points to address and therefore it can be the heaviest but also the most rewarding part to introduce. Keeping it simple with a single payment method, anonymous checkout and other simplifications will help this part go live sooner. Once basic transactional capabilities are available, additional complexity can be introduced until a fully omni-channel experience has been realized.
Recap: The Power of Best of Breed
Summarizing what we have talked about today. First, there are two patterns winning in the battle for digital solution architecture –  e-commerce only and headless commerce. Of the two, headless commerce is the gold standard for digital architecture. Second, Gartner and Forrester agree that Hybris and Sitecore are Best of Breed in their respective domains. By combining Hybris and Sitecore, the power each has to offer can be unleashed satisfying the most creative business people and the most scrupulous IT personnel. Next, EPAM's exclusive Sitecore + Hybris connector can accelerate the development of this digital solution. This is evidenced by General Electric Healthcare, which has benefited from this solution as we have seen through the demo. If you have one of these platforms in which to introduce the other there is a defined path that you can take to reach this more powerful solution. And lastly, if you have neither platform in place EPAM can help with its rare expertise in both platforms.
Reality Check: Benefits In The Words of GE Healthcare
Before we conclude, let's hear from GE Healthcare one more time about the amazing results they've experienced using Hybris and Sitecore together. So, some of the benefits that we've seen in a short period of time… Some of them are internal. To start with, we've taken advantage of simplifying workflows of product data and going from separate e-commerce applications down to one which has been a big win. This has given more visibility to our content managers and creators which can easily track the flow of data to the Hybris connector. We've also started to see some improvements in the ability for our commercial team who have easier time tracking front-end orders and as we start tracking the interactions of the new platform that's based on these two systems we started to see some early customer data that shows an increase in average order value and the decrease in cart abandonment, which is great. And finally, we're kind of looking forward and starting to work on the ability to set product recommendations and rules that will be based on the Hybris out-of-the-box rules and the powerful Sitecore personalization engine. So, overall the Hybris & Sitecore integration is allowing us to seamlessly join information management and the front-end publication layer while we take advantage of personalization and product recommendations in an effective way.
About EPAM
For those who are not familiar with EPAM, EPAM is a 24 year old global company with revenues in excess of 1 billion dollars. We have over 20,000 employees and have expertise in a number of industry domains well-suited for a Sitecore + Hybris digital solution. We are a true end-to-end solution provider able to assist you with your digital transformation journey and any other strategic imperatives your organization may have.