In this article, I share a bunch of the scripts I use in my work. All these scripts are used as templates for something special. The first script is used to convert FlexibleSearch queries into raw SQL. The second script shows all hybris types that use the particular type.  The third one will help you with executing DDL queries on the database server remotely (such as ALTER TABLE, for example). I also provide the script for printing the database table structure and the indexes defined for it. 
Read More »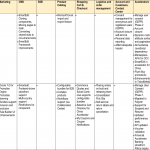 I updated the upgrade map for SAP hybris Commerce.
Using this reference you'll be able to find a list of the capabilities you get if you upgrade your hybris from a version X to a version Y, grouped by a topic.
Read More »
Web applications heavily rely on forms. Questionnaires and comprehensive registration forms are common components of the HR, financial and service solutions. The business rules behind these forms are complex and frequently updated. The well-known example is job application forms. Depending on…
Read More »