Useful Groovy Scripts. Part 2.
---
The 
Groovy console 
is a very handy tool to develop and run scripts inside hybris without touching the source code. It is a very powerful tool for debugging purposes, especially if you need to troubleshoot the remote system. In this article, I collected some of the scripts I use regularly in my work. This is a PART 2 of the
series
. Today I share the following solutions:
add any class to the logging subsystem
print a bean list from the particular context
execute a method from the page controller from HAC/Groovy console
print all URLs from all controllers (request mappings)
print all web contexts
Certainly, all of these scripts are NOT for production use. These are just for troubleshooting and debugging purposes.
Turn on/off logging for any class
In order to turn the logging on for any particular class, in the latest versions of SAP  hybris Commerce normally you need to make some changes in
local.properties and
 restart the server. After adding the class into the list, you will be able to turn off and on the logging for this class using HAC. However, sometimes we need to turn on the logging temporarily, just to troubleshoot. It is a very common scenario. So I believe, my solution will make things easier for the developers. The following code adds the logger for "jalo.flexibleSearch.FlexibleSearch" with a DEBUG level: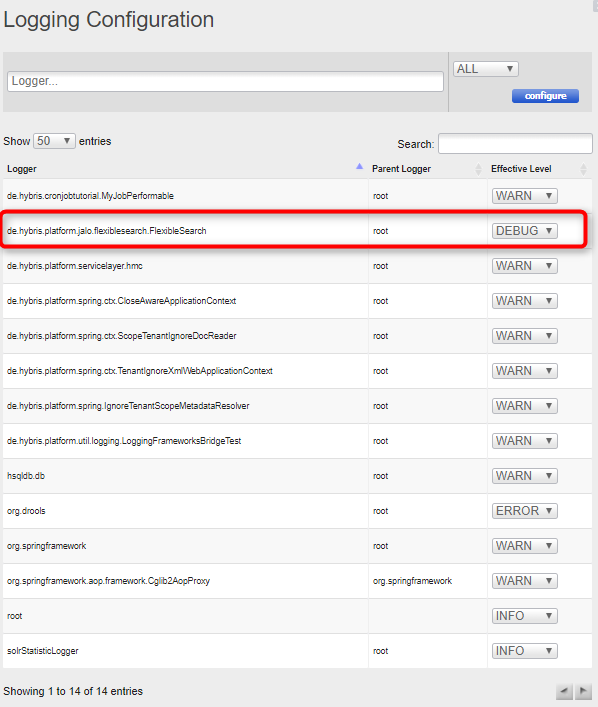 You can activate and deactivate a bunch of loggers in one go.
Print a bean list from the particular context
The default example from the Groovy Hybris Scripting shows only the beans accessible from HAC. The list is quite short and not very useful. The code below shows the beans from any particular context.
Executing the method from the page controller bean
You may want to execute a method from the controller bean. Normally, it is not possible, because the bean is not accessible, the context is not set up properly etc. The code below that it is feasible.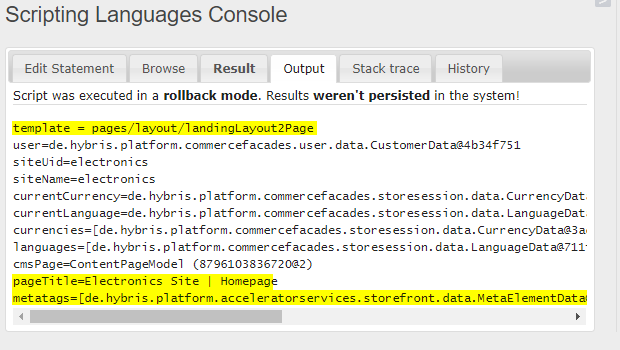 Print all URLs from all controllers (RequestMappings)
The code below shows all request mappings from all controllers of the particular context.

Print all web contexts
appContext
.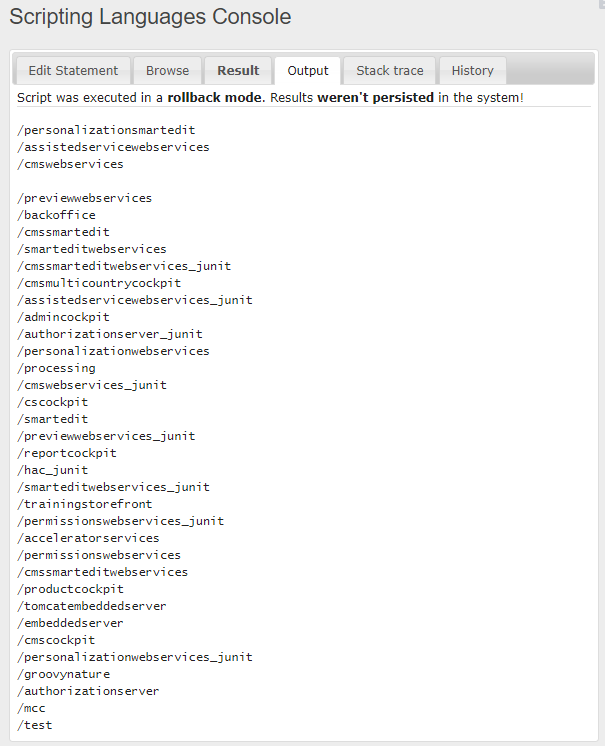 © Rauf Aliev, December 2017