Hybris Commerce Roadmap: Outline from SAP Saphire'17
---
This article is an outline of the findings from SAP Saphire 2017, mainly based on the presentation brought by Seema Thomas and Lisa de Souza. The presentation was started with citing
MIT Sloan Management review
, "
Companies with 50% or more of their revenues from digital ecosystems achieve 32% higher revenue growth and 27% higher profit margins
[than their industry averages]
"  and Accenture's "
only 5% of organizations feel they have mastered digital to a point of differentiation from their competitors" (pdf). 
The companies of all sizes are affected by:
Customer Experience. If customers has a bad experience, they won't come back.
Customer Insights. Enables a deeper understanding of the customer's motivation and intent
Digital Transformation. The old rules no longer apply. Digital technologies have radically transformed the business landscape.
The drive for agility.
Past to present
SAP showed the timeline on how hybris was changing from 5.4 to 6.3.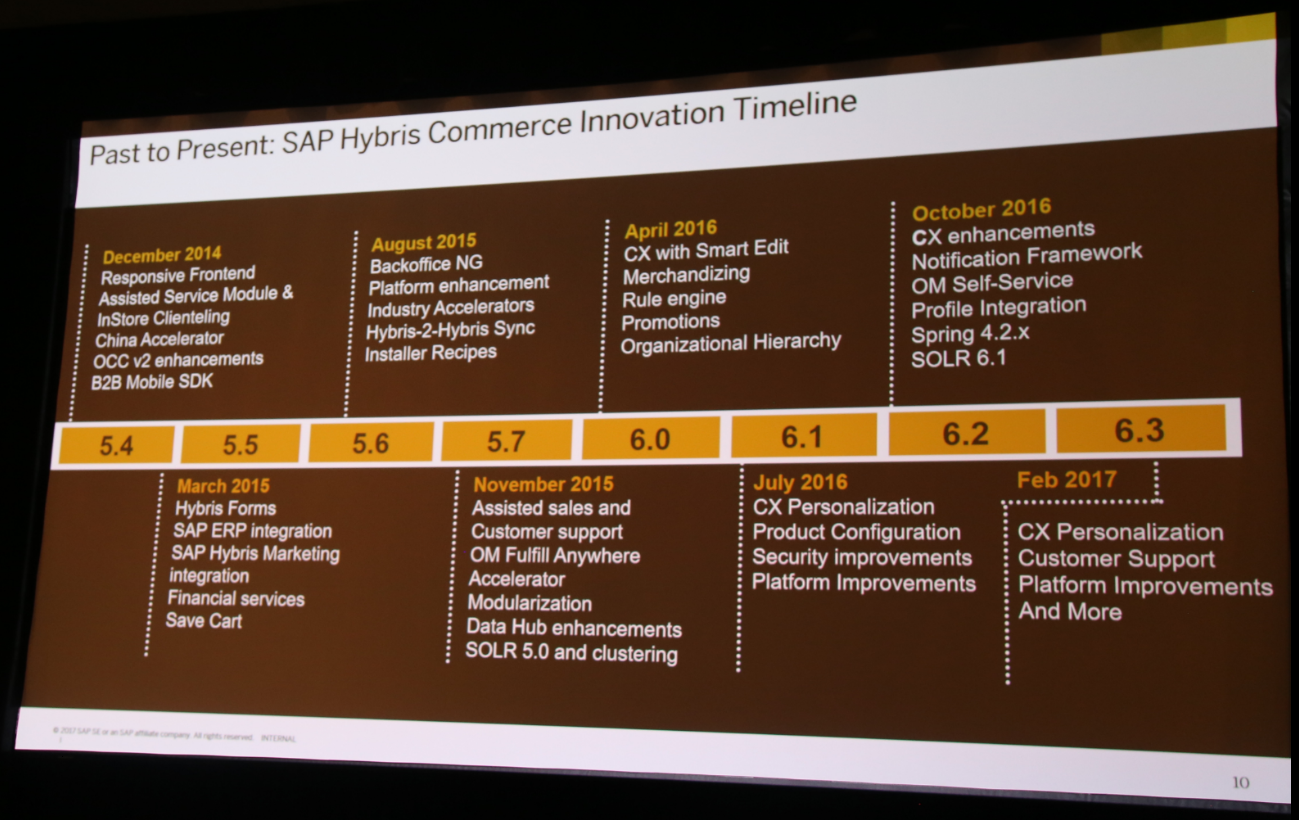 Solution Strategies
Portfolio priorities.
 SAP highlighted three areas as priorities for 2017:
Unification

Transform into one unified platform
Unify user experience

Integration

Standardization of integration technologies
Focus on business process integration
Multi usage of business objects
Mobilize ecosystem

Cloud

Transform with cloud innovations
One extension platform
Commerce as a service
New revenue cloud
Key themes/capabilities in the roadmap
Commerce Core

B2B:

ASM adapts to the configuration of the user & their position
3rd party integration: Sales Organization sync

Configurable products
Enhanced bundles
Commerce quotes (Phase II)
Interactive features. Guided selling

Customer Experience

Profile-driven personalization. Profile insights.
Personalization across Content & Commerce
Optimization & A/B-testing

Order Management

Standalone deployment.
Order modification. Self-service.

Master Data Management

Backoffice Product Cockpit
Product data quality groups
Supplier portal
Workflow center

Integration

Datahub BP monitoring
SAP integration (SAP Hybris Sales Cloud, Returns with S/4 HANA)

Platform

Containerization
Cluster management
Commerce Core
Commerce Quotes
Promotional pricing based on established relationships
Bundle rules (based on the rule engine)
Bundle-aware shopping cart
B2B: Sales organization (Phase 2)
Enhancements to automatically include sales unit and buyer unit hierarchies (6.4)
Seller structure (manual/integrated)

Integration with the internal systems

Seller constraints (used in ASM)

Business unit

Can be directly assigned to sellers or group of sellers

Geolocation

Under geolocation use of the business unit corporate address

Mark the geolocation as assignable
Correlating customer corporate addresses with geolocation devisions

Catalog/Category can be assigned to the sellers or group of sales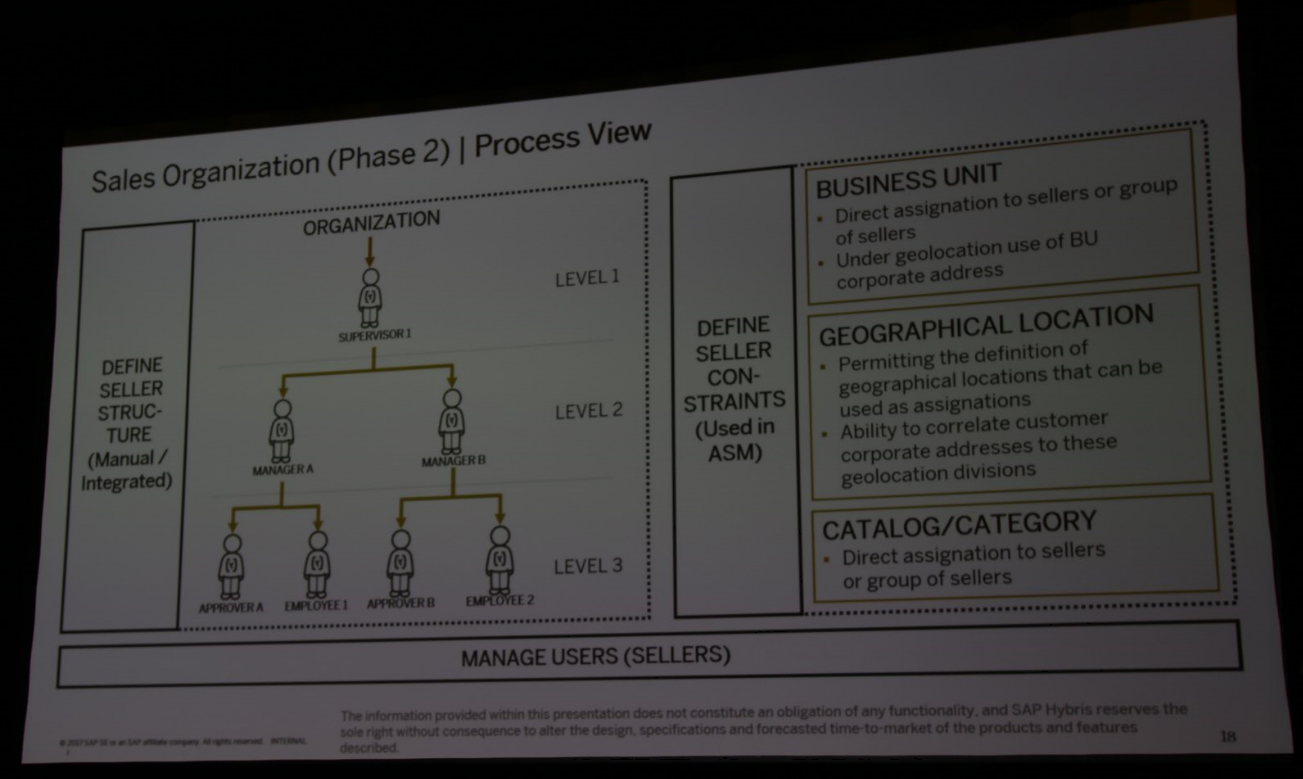 ASM Customer 360º view (since 6.2)
Customer agents are able to identify their customer, to relate and assist
Relevant recommendations
Promotions & Loyalty
Customer technologies such as devices, browsers and operating systems enable customer service agents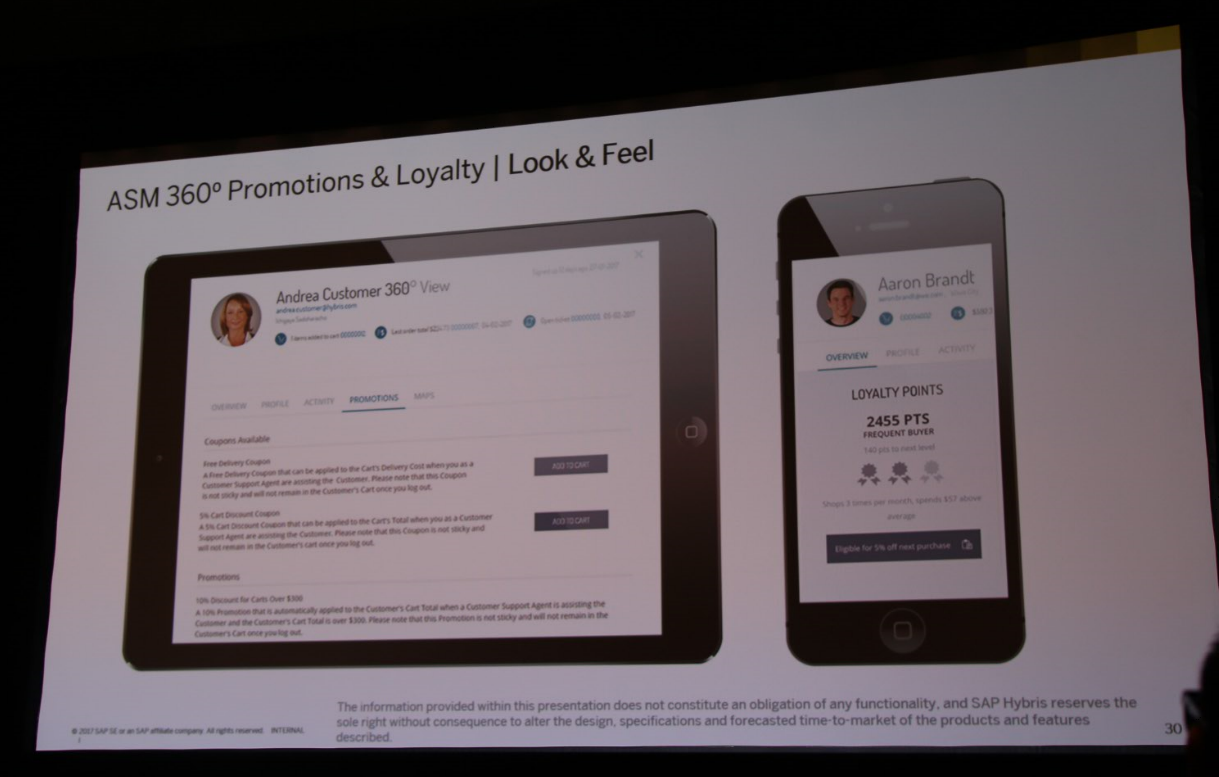 Promotions
Enhanced Bundling
Bundle-aware promotions
Rule-based
Customer experience
By 2020, 50% of digital transformation initiatives will fail due to the lack of an end to-end customer experience operating system (IDC Research, FutureScape Worldwide Chief Marketing officer 2017 Predictions).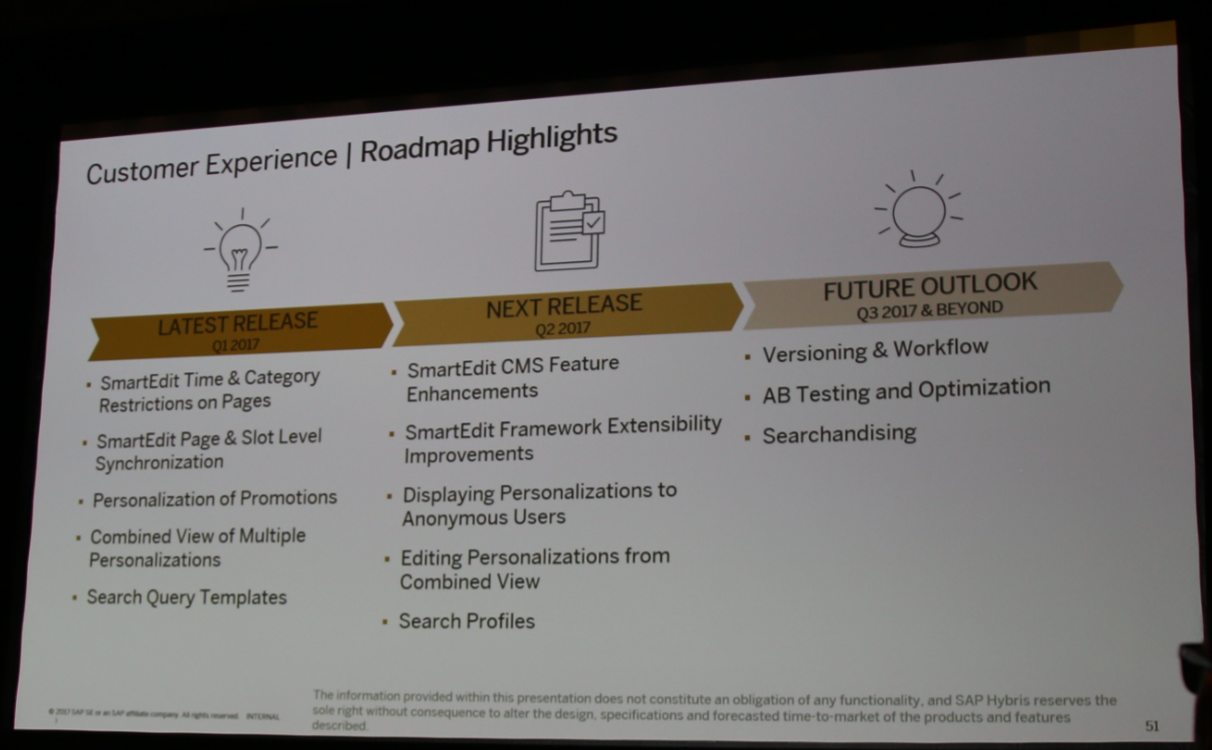 CMS SmartEdit
Enhancements of CMS SmartEdit in 6.4

Clone pages
Create and edit user group restrictions
Improved shared slot support
Additional components (CMS link and Product Reference)
Improved framework extensibility to support new component types
Personalization Enhancements
More complex rules for configuration of user segments and display default customizations to anonymous users
Displaying personalizations to anonymous users

Editing personalizations from Combined View of multiple personalizations

Preview and edit customizations for multiple target groups in context at once
Versioning & Workflow (Q3/17 & Beyond)
Allow business users to make changes and rollback to previous versions content across content & pages
The workflow core will be the same, but UI is reworked
Searchandising (Q3/17 & Beyond)
Search + Personalization
Boosting products for different target groups
Using customer insights from SAP hybris profile and other systems to enhance search results
A/B testing and optimization (Q3/17 & Beyond)
Order management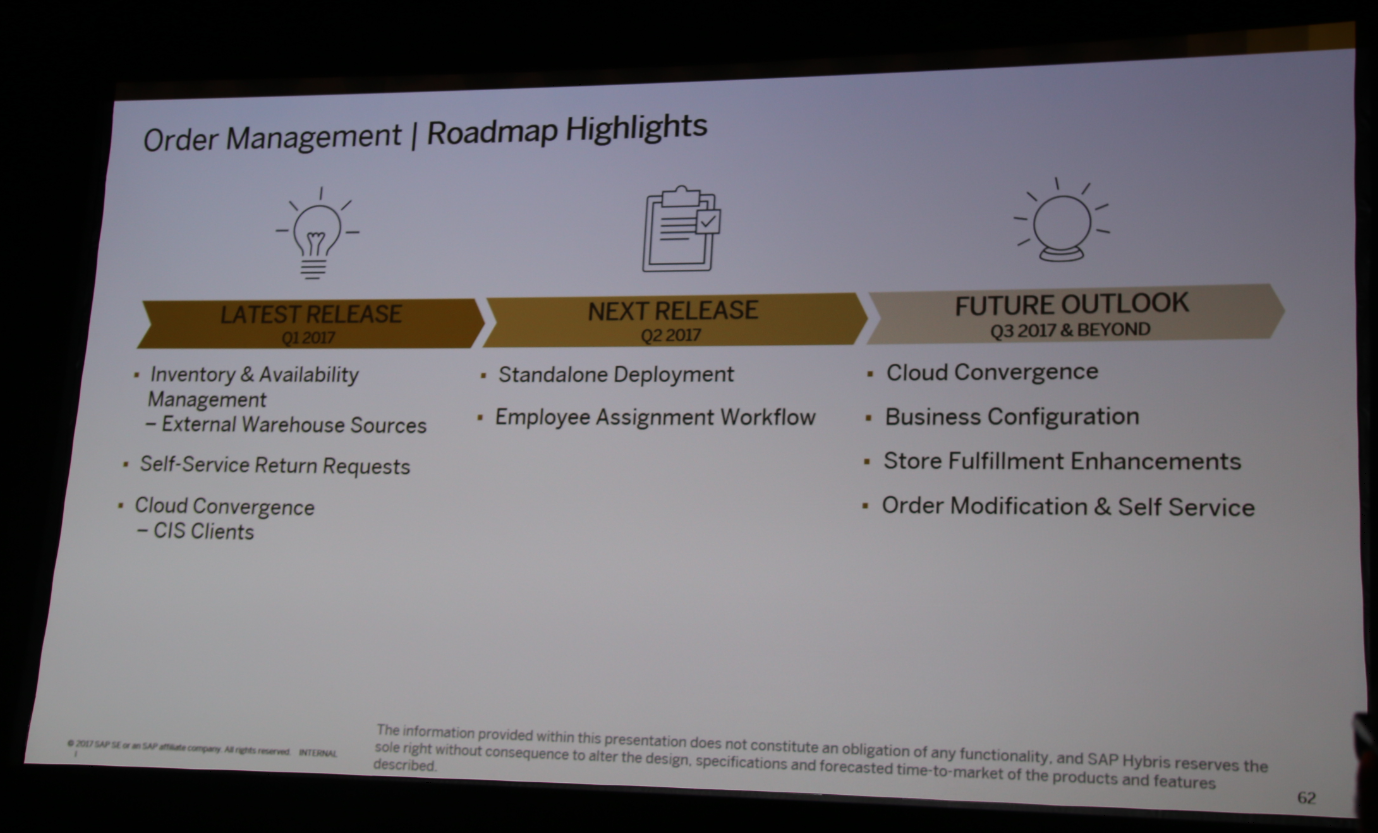 Standalone deployment of OMS!
Master Data Management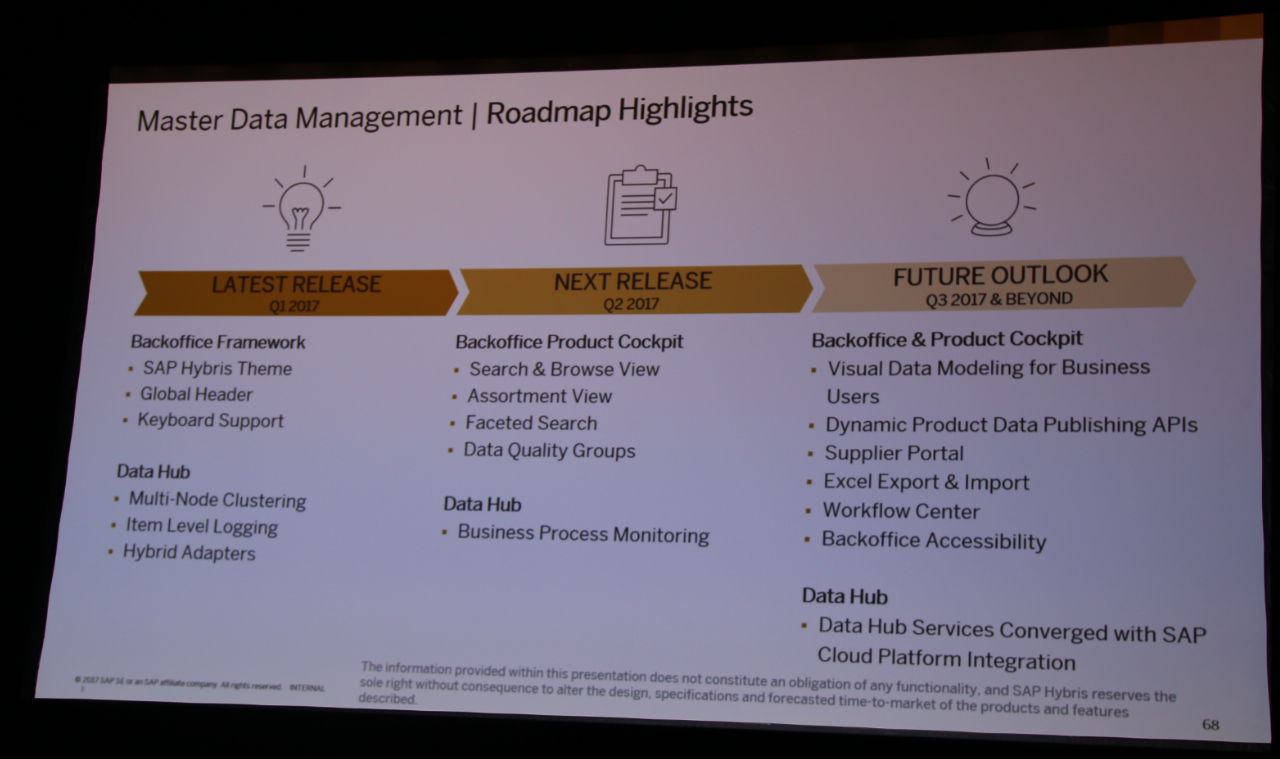 Brand-new Product Cockpit in 6.4
New Backoffice Product Cockpit!
Copying/Cloning products between catalogs (Drag&Drop)
SOLR powered product search in PCM with facets!
Enhancements in the validation engine (constraints, like wrong format or value is too small etc)
Data quality groups (validation engine)
Catalog/Catalog version operations are now integrated into PCM
Multiple sync rules are supported
Dynamic interfaces (displaying only relevant fields)
Synchronization jobs / processes can be easily monitored from backoffice/PCM: progress bar, statuses, aborting etc.
Future plans (Q3 & Beyond)
Supplier portal
Product Comparision in backoffice
Enhanced Collaboration:

Workflows & Tasks,
Workflow center
Workflow Visualization

Excel export/import
SAP Integration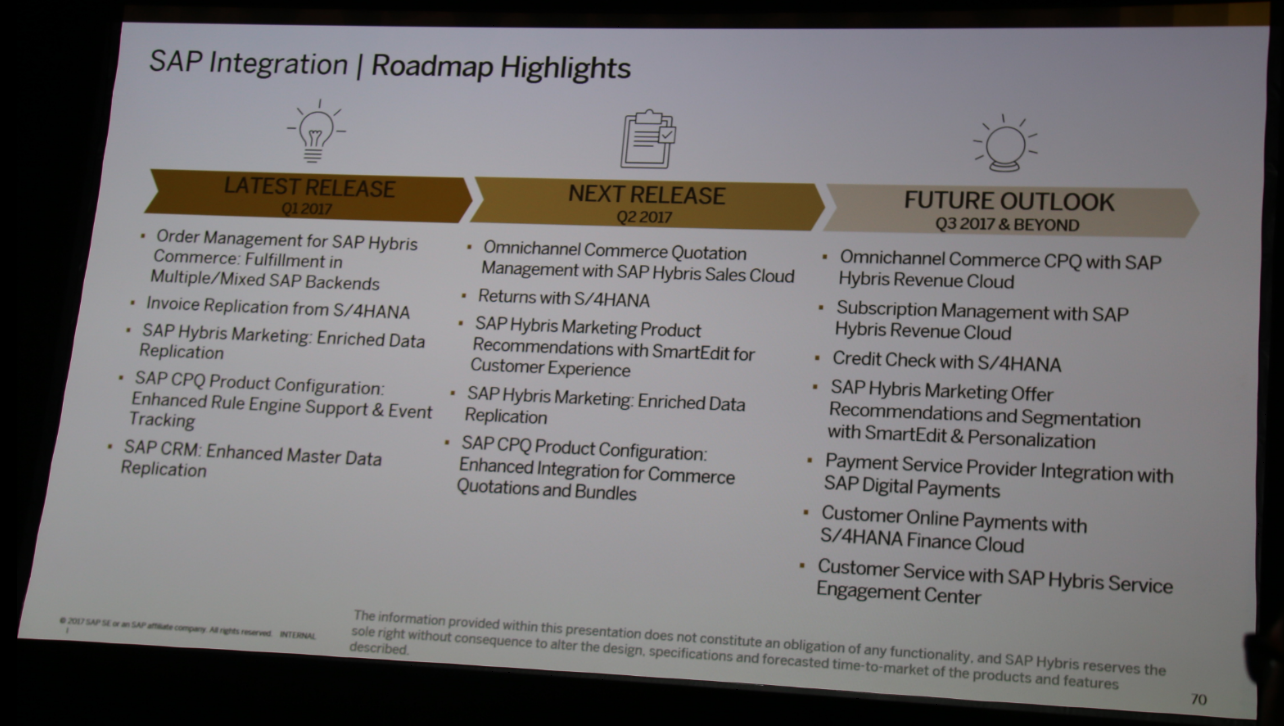 © 
Rauf Aliev, May 2017